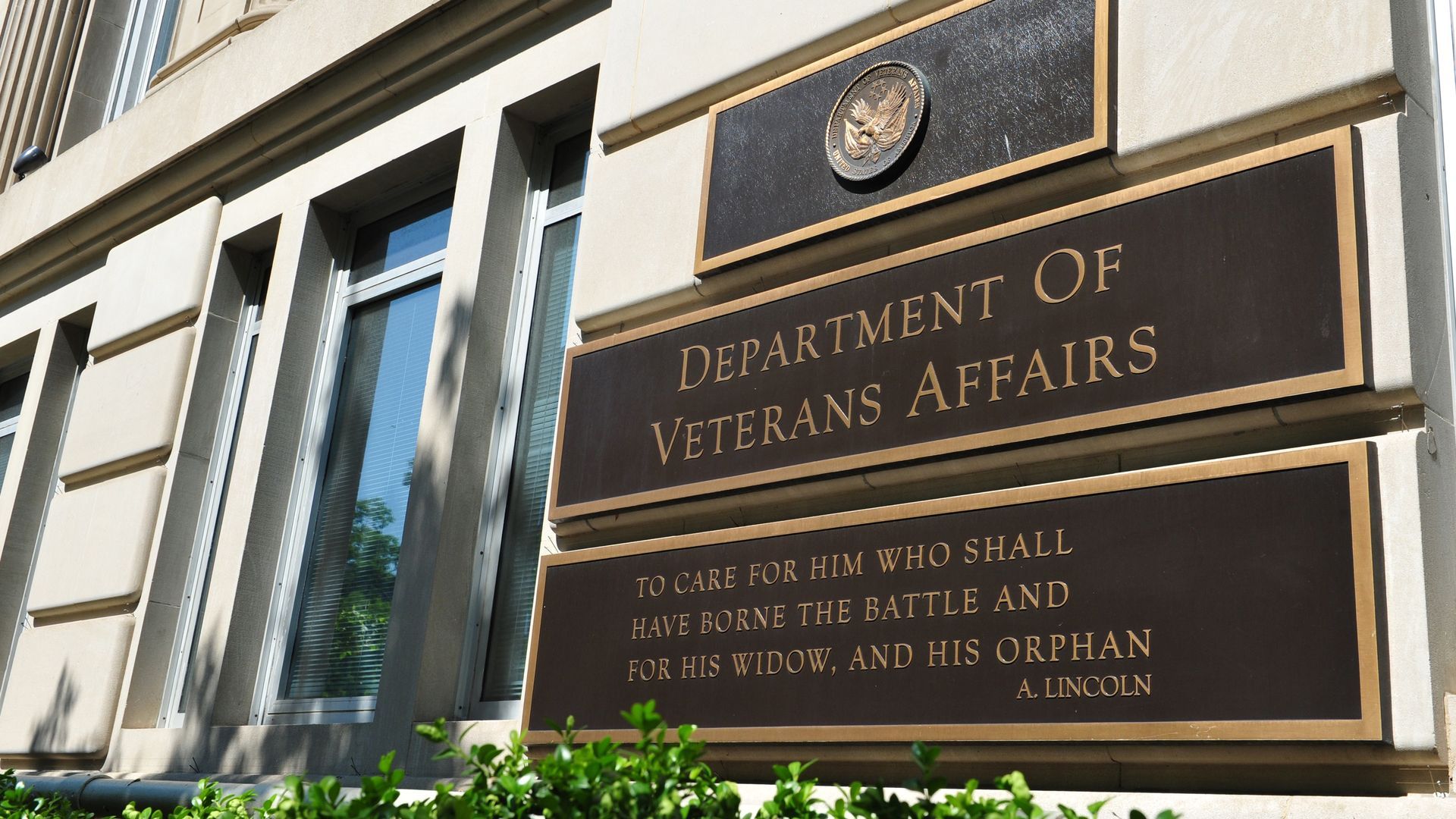 The Veterans Affairs building in Washington, D.C. Photo: Karen Bleier/AFP via Getty Images
Black and Hispanic veterans' access to specialty health care declined during the pandemic, according to a recently published study that also found non-Hispanic white veterans were largely unaffected.
Why it matters: About 12% of vets are Black and 8% are Latino. Those numbers are projected to grow to 15% and 12% respectively by 2045, according to the Department of Veterans Affairs.
Disparities in access to treatment can have wide-ranging consequences, from mental health problems to complicating adjustment to civilian life.
Details: The study, published in the Journal of the American Medical Association late last month, looked at wait times for over a million veterans seeking cardiology or orthopedic appointments, two of the most common specialty services that the VA provides.
The researchers found wait times for Hispanic vets increased by five days for cardiology services and four days for orthopedic ones from 2019 to the 2021 fiscal year compared to the wait times for white non-Hispanics.
The Government Accountability Office recently also found appointment delays and recommended the VA "develop a timeliness standard."
What they're saying: "It might be that white veterans were better informed about ways to accelerate those wait periods, whereas Latino and Black veterans maybe weren't," says Raul "Danny" Vargas, founder and CEO of the American Latino Veterans Association.
"The bottom line from my perspective is that Latino veterans continue to be an increasingly important and significant portion of the overall veteran population, but there are nuances and subtle differences in terms of how that population needs to be engaged or approached."
A 2018 law, the MISSION Act, led to a program in 2020 to make it easier for veterans to access care through community providers for certain treatments.
Veteran Affairs Secretary Denis McDonough said last year in a Senate hearing that, as a result of the program, "we are making steady progress in reducing wait times.
"We at VA are actively working to seek out, diagnose, and eliminate any disparities in health care – and we are taking steps to expand tracking of disparities in specialty referrals, including orthopedics, so we can address them," spokesperson Randal Noller told Axios in a statement.
"Any disparity in care is unacceptable, and we will not rest until all Veterans who come to VA get the world-class health care they deserve, across all racial and ethnic groups."
Subscribe to Axios Latino to get vital news about Latinos and Latin America, delivered to your inbox on Tuesdays and Thursdays.
Source: Read Full Article