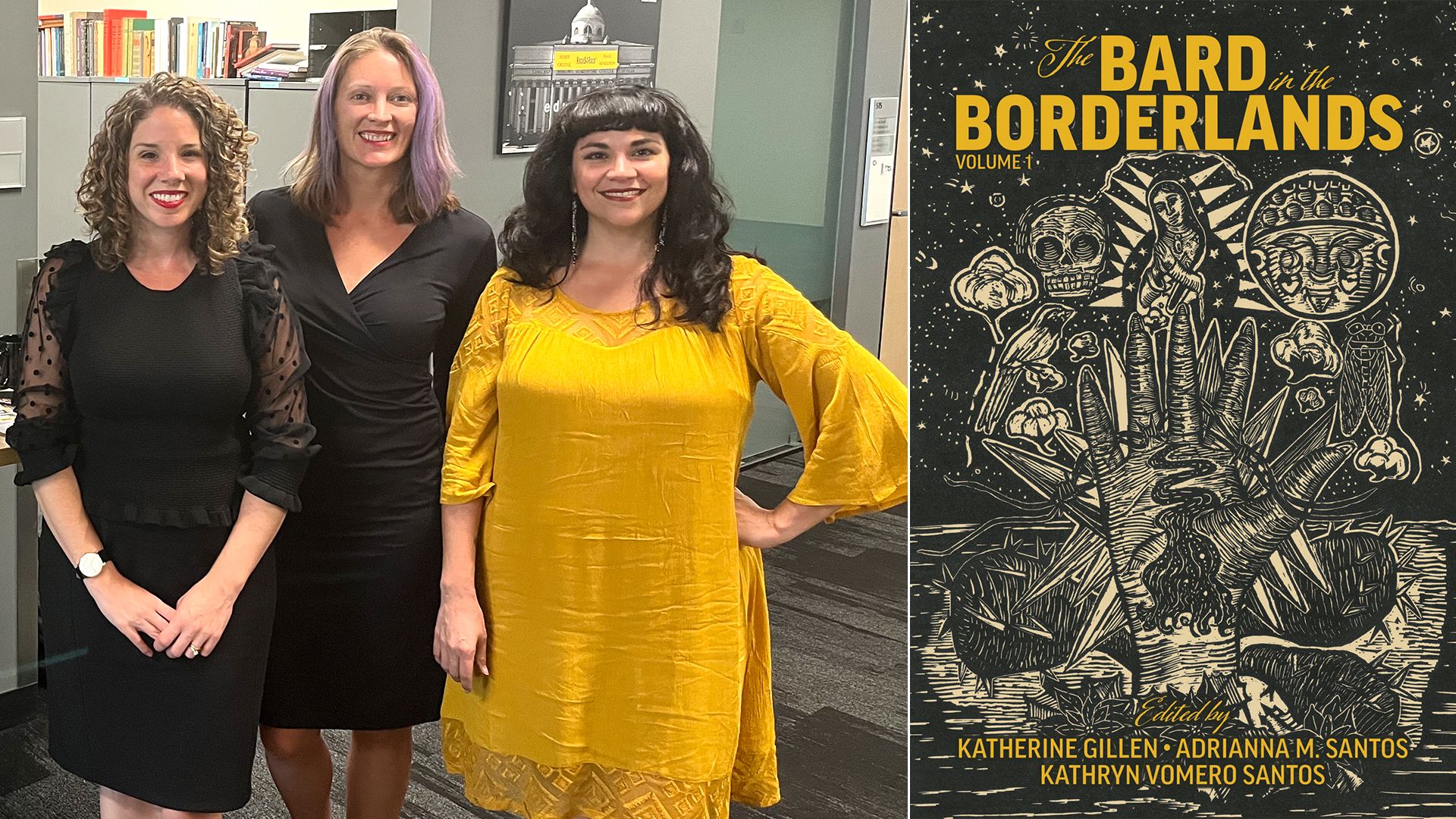 From left: Kathryn Vomero Santos, Katherine Gillen, and Adrianna M. Santos; Cover of the "The Bard in the Borderlands: An Anthology of Shakespeare Appropriations en La Frontera." Photos: Courtesy of Borderlands Shakespeare Colectiva.
The global movement to diversify the works of William Shakespeare is hitting the U.S. borderlands, with a new project, book and adaptations attempting to tell the writer's stories through Latino and Indigenous lenses.
The big picture: Shakespeare's work for centuries has catered to and been performed for white audiences, but a new movement is flipping that on its head.
Scholars worldwide have in recent years examined how race and gender intersect in Shakespeare's work, resulting in diverse casting in productions and experimental adaptations of his most famous works.
Driving the news: Three Texas-based scholars who are part of a collective examining Shakespeare through a Chicano studies lens were recently awarded a $500,000 grant from the Mellon Foundation for their research project, "Shakespeare in the U.S.-Mexico Borderlands."
The project seeks to make Shakespeare more accessible to border communities.
Kathryn Vomero Santos of Trinity University, along with Katherine Gillen and Adrianna M. Santos of Texas A&M University-San Antonio, are behind the project, which is culminating with their upcoming book, "The Bard in the Borderlands: An Anthology of Shakespeare Appropriations en La Frontera."
The book, which is scheduled to publish in March, contains 12 plays that reenvision Shakespeare on the border.
One adaptation in the book, "The Language of Flowers," has Romeo and Juliet ending up in a Mexican afterlife framed by Día de Los Muertos, Gillen says.
Zoom out: Shakespeare's Globe in London regularly stages productions with Black or South Asian actors in prominent roles.
It sponsors "Anti-Racist Shakespeare," free webinars that bring together scholars and artists of color to examine Shakespeare's plays via the lens of social justice.
In the U.S., classical theater companies are experimenting with more diverse Shakespeare productions.
A bilingual audio adaptation of "Romeo and Juliet" — "Romeo y Julieta" — starring Lupita Nyong'o ran in 2021, and a Delaware production group last year reimagined "Twelfth Night, or What You Will" as a bilingual immigration story with Latino actors.
What they're saying: "We see our work aligned with a larger movement that has been embraced under the umbrella #ShakesRace," Kathryn Vomero Santos tells Axios.
Adrianna Santos said it's common for students of color in K-12 to resist Shakespeare and see his work as unrelatable.
"But when you offer them Shakespeare through the lens of the Borderlands, through multilingual adaptations…that teach Mexican American contexts and histories and culture, then it becomes a new life for them," Adrianna Santos adds.
One fun thing: Scholars say there is evidence that Shakespeare's audiences were more diverse than initially thought, and the playwright would have been exposed to travelers from around the world, including Africa and the Americas.
In "Titus Andronicus," Aaron the Moor refuses to kill his biracial baby and gives what is believed to be one of the first Black power speeches in literature, according to Shakespeare scholar and Arizona State University English professor Ayanna Thompson.
Subscribe to Axios Latino to get vital news about Latinos and Latin America, delivered to your inbox on Tuesdays and Thursdays.
Source: Read Full Article