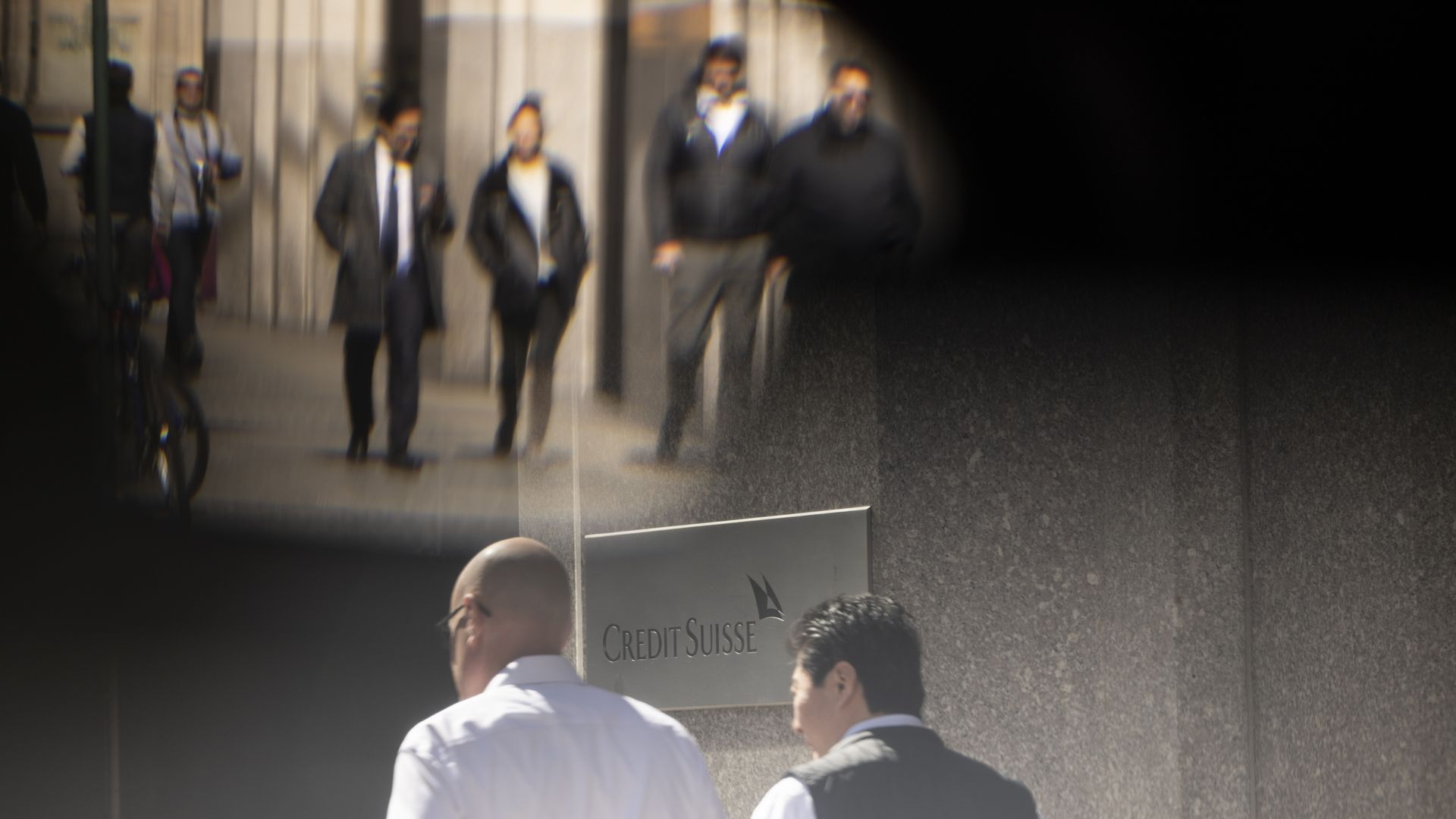 Photographer: Angus Mordant/Bloomberg via Getty Images
Credit Suisse investment bankers remain in the dark about their fate, with no word from leadership when sources say it appears the vast majority of them could soon lose their jobs.
Why it matters: The rescue acquisition of Credit Suisse by UBS, arranged by the Swiss government, has left thousands of bankers in limbo.
Driving the news: UBS has shrunk its investment bank and publicly said it is not interested in taking on Credit Suisse's own division.
Credit Suisse's investment bank was expected to spin off as CS First Boston, led by board director Michael Klein.
Sources say that the UBS rescue has scuttled that plan, and Klein is expected to negotiate some type of agreement that dissolves the spin off plan.
That leaves thousands of Credit Suisse investment bankers in the sales and trading, fixed income, capital markets, fixed income and other IB divisions waiting to lose their jobs once the UBS deal closes on June 1. They face a tough hiring market, as banks across the globe cut costs.
In addition, the Swiss government said this week that it's temporarily suspending deferred remuneration granted to Credit Suisse employees in the years up to 2022.
Yes, but: Some Credit Suisse bankers have been able to get hired.
Bloomberg reported that Credit Suisse healthcare banker John Hoffman is expected to join Royal Bank of Canada's RBC Capital Markets team. personnel changes.
Credit Suisse ECM technology sector banker Justin Sterling is expected to join Wells Fargo, according to Bloomberg.
Of note: Despite these examples of poaching, big bank executives issued a warning to staff to tread carefully and avoid the appearance of taking advantage of the situation.
Zoom in: A Credit Suisse banker said he instinctively reached into his bag for his business cards before leaving his hotel room this week for a networking event. And then he stopped.
"I thought to myself, 'Why? Why do I need these?'" said the banker, who did not want to be named. "If I hand my card to someone, it's just going to be awkward."
What we're watching: Two things: What Michael Klein does in lieu of the spin off plan, and what Credit Suisse tells its bankers about their future.
"UBS I think will likely keep some sector bankers with a big client list, in sectors they want to grow, like healthcare," said a former Credit Suisse banker. "Other than that, I think 90% will lose their job."
Credit Suisse declined to comment.
Source: Read Full Article