The Taliban has appointed several old guard members to Afghanistan's caretaker government.
Among those appointed to the new interim cabinet as interior minister is Sarajuddin Haqqani, who is on the FBI's most-wanted list.
Interim prime minister Mullah Hasan Akhund had headed the Taliban government in Kabul during the last years of its rule.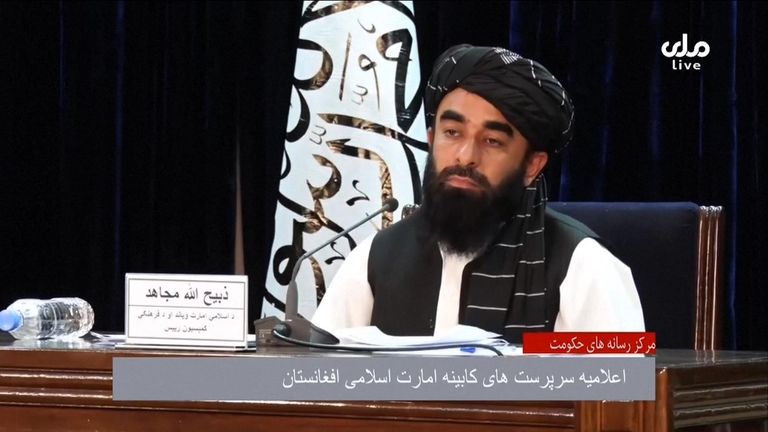 One of his deputies will be Mullah Abdul Ghani Baradar, who had led talks with the US and signed the deal that led to America's final withdrawal from Afghanistan.
Taliban spokesperson Zabihullah Mujahid said in a news conference that this government is not a "tribal" one and will represent all Afghanis.
There is no evidence of non-Taliban members in the line-up, defying the demands of the international community.
The government will be led by Mr Akhund, with the Taliban's co-founder, Mr Baradar, acting as his deputy.
Mr Haqqani is head of the militant group – the Haqqani network – who are affiliated with the Taliban and have been behind some of the deadliest attacks in Afghanistan in the last 20 years.
Analysis, Dominic Waghorn, International affairs editor
The Haqqani network has been designated as a foreign terrorist organisation by the United States and he is wanted by the FBI in connection with the January 2008 attack on a hotel in Kabul, that killed six people, including an American citizen.
Other appointments include Mullah Yaqoob as the acting defence minister, Amir Khan Muttaqi as the foreign minister and Abdul Salam Hanafi as the second deputy.
There are no indications as to whether the Taliban will hold elections.
The announcement of the temporary government came just hours after the Taliban dispersed anti-Pakistan protestors by firing into the air and arrested several journalists in Kabul.
People have been protesting against the Taliban and Pakistan's alleged interference in Afghanistan's affairs, with the Islamist group calling the neighbouring nation its "second home".
Source: Read Full Article