Travel advisors applauded Carnival Corp.'s move to streamline brand operations, but concerns linger about how Carnival Corp. will manage its debt load. 
The restructuring, which went into effect June 1, did away with Holland America Group, a subgroup of cruise lines that bundled Holland America Line, Princess Cruises, Seabourn Cruises and P&O Australia. Shared services between the four lines have been completely unwound, said Carnival Corp. CEO Josh Weinstein.
"This will enable the brands to operate with greater speed and responsiveness to market demands and opportunities and further position each of our brands to own its space in the vacation market as we rebuild our financial fortress and deliver long-term shareholder value," Weinstein said. 
The new arrangement splits the company's nine cruise lines into six groups with six leaders reporting directly to Weinstein (see organizational chart below). Previously, the company broke cruise lines into four groups, and only Carnival Cruise Line reported directly to the CEO, while the others reported to different senior executives.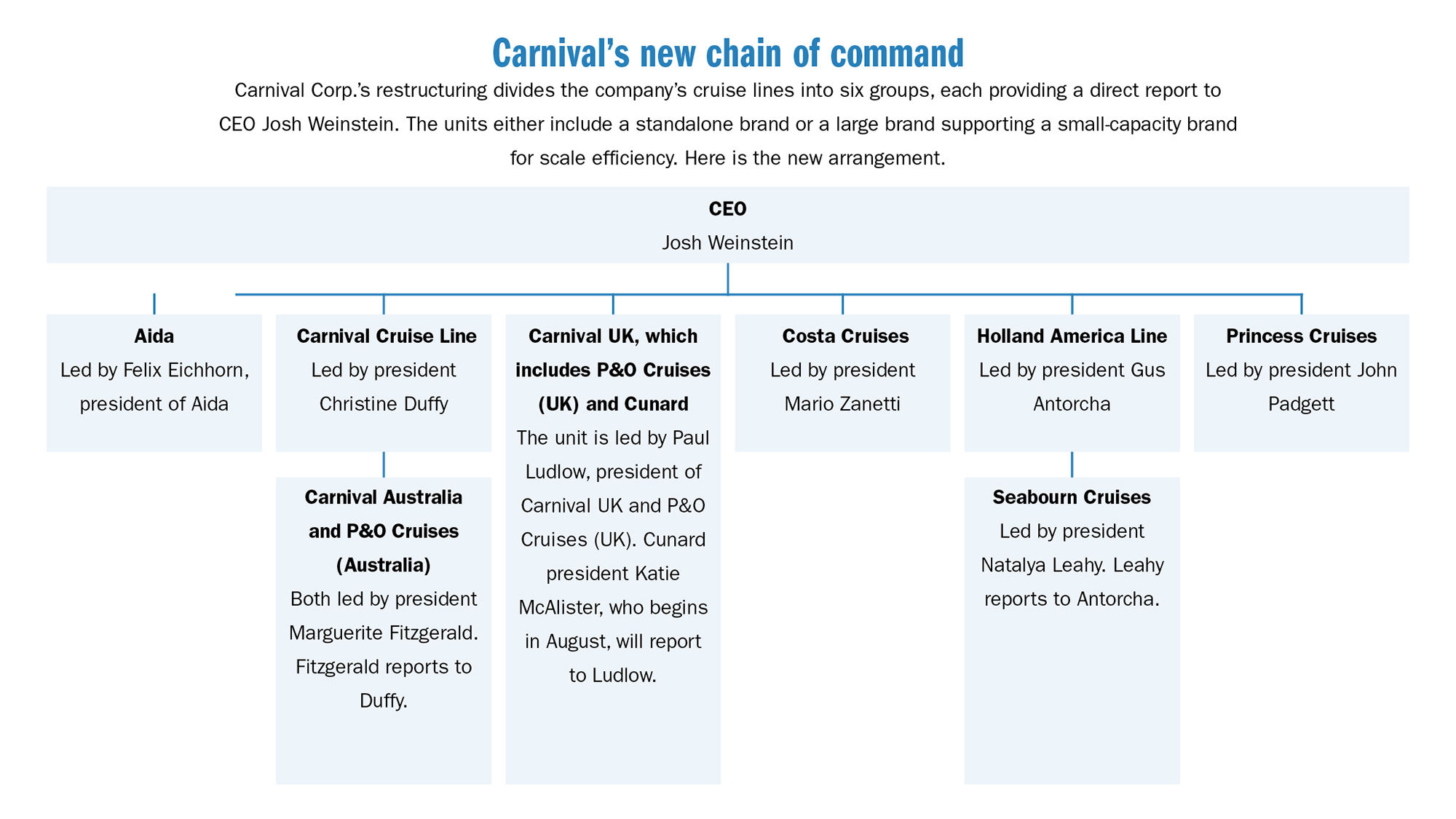 Anthony Hamawy, president of Cruise.com, said the reorganization gives the cruise lines direct access to Weinstein and the ability to make moves more immediately as needed.  
"It gives you an idea of the way Josh is looking at things and being able to really pull the strings as needed, budget-wise or strategy-wise, in order to make things happen quickly at a brand level," he said.
Angela Hughes, chief visionary officer at Trips and Ships Luxury Travel in Winter Garden, Fla., is optimistic the reorganization will make Carnival a more efficient organization and provide better experiences for customers. But she is concerned about the company's financial future as it manages its debt. 
At the end of March, Carnival Corp. in its Q1 earnings report said it had $32.6 billion in long-term debt, up from $9.6 billion at the end of 2019. All of the major cruise companies piled up debt during the pandemic so they could stay afloat while not operating.
"Although the industry feels like it is strong, we can't turn a blind eye to the debt and the length that suppliers were forced to stay grounded" during the pause in cruise operations, she said. "We're not out of the woods yet." 
Steven Wieczynski, managing director at Stifel, an investment bank, said after a meeting with Weinstein last month that booking trends remain healthy and revenue is pushing higher at Carnival Corp. In a report published the day before the reorganization was announced, Wieczynski said he expects Carnival Corp. to outperform its quarterly and full-year guidance this year. 
"Based on the changes necessitated by Covid-related financial challenges, we expect [Carnival Corp.] to emerge a leaner and more efficient entity," Wieczynski said.
Travel advisors will likely see little change with this restructuring other than an ability to operate faster, said Jan Swartz, whose role has changed with the restructuring.
Swartz had been president of Holland America Group and is now Carnival Corp.'s executive vice president of strategic operations, a new role at the company. 
She said the sales approach will be similar to operations under the previous structure, with each brand having dedicated resources as well as some shared ones, such as charter and incentive sales for Holland America Line and Seabourn.
Source: Read Full Article