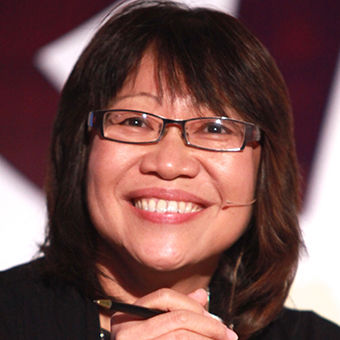 "The women will be happy, lipstick sales will go up," said the Gojek driver to me, the day the announcement came that Singapore would make masks optional except in public transport and medical facilities, effective Aug. 29.
I smiled. He of course couldn't see that behind my mask, but we both shared a moment of solidarity.
We have lived through the biggest existential crisis of Singapore's young (57 years old) life, and we have come out of it together and once again, kids will be able to see each other's faces in classrooms, and we will be able to see each other's smiles in malls, cinemas, concert halls, theaters …
For those living in the West, I know they are puzzled as to why we in Asia are still living with masks when they have gotten on with living with Covid. And it will be interesting to see how many people in Singapore will opt to keep their masks on because even now, when it's no longer mandatory outdoors, the majority are keeping them on.
Perhaps it's become like a second skin and shedding it will take some time.
But this masks-off move is a positive signal for the rest of the region, which has been "first in, last out," to get on with it; plus it's really good for tourism and conferences and exhibitions. There's not much joy for people to travel to places with restrictions, especially if when they're at home, they are pretty free to do as they please. 
Asia is now two worlds; Southeast Asia is pretty much open, and we are free to travel cross-border to visit each other without restrictions, while varying degrees of restrictions remain in North Asia.
Japan opening up?
All eyes are on Japan, which is taking another baby step toward reopening — reports indicating it will scrap Covid entry tests for vaccinated travelers as well as more than double the daily limit of 20,000 tourists to 50,000 beginning this month; travelers will, however, still have to book through a travel agency in order to enter.
Varying degrees of restrictions and testing requirements are still in place in places such as Hong Kong, Taiwan and South Korea, while China is maintaining its zero Covid strategy.
China, South Korea and Japan are Asia's three biggest outbound markets. In 2019, the number of outbound tourists from China reached nearly 155 million. That same year, South Korea recorded 28.7 million international departures, while the number of Japanese overseas travelers exceeded 20 million for the first time (20,080,600).
• Related: Andaz Pattaya Jomtien Beach taps into Thai culture
That's a big chunk still missing from the Asian and global tourism market.
In some ways, it's a good thing, this partial opening of Asia. It enables the travel industry to restart in waves and not encounter the problems that the U.S. and Europe ran into during the peak summer season.
In Southeast Asia, covering the countries of Singapore, Malaysia, the Philippines, Vietnam and Indonesia, travel recovery has been robust. International travel brands such as Expedia are reporting strong growth. According to Expedia flight data, inbound travel demand for Southeast Asia grew four times year over year in the first six months of 2022.
The top inbound markets contributed to Southeast Asia's growth, with six out of the top 10 markets within Asia, indicating a strong return of intra-Asia travel. Interestingly, the U.S. was the top inbound market into Asia, followed by (in order) Thailand, Singapore, the Philippines, Canada, Malaysia, Australia, Japan, the U.K. and Indonesia.
Expedia Singapore's flight search data shows Japan cities trending for year-end holidays among Singapore travelers, with Tokyo in the top spot.
It is these signals that give Michael Dykes, the newly appointed vice president of market management for the Asia Pacific region with the Expedia Group, a renewed optimism and confidence in Japan as a destination.
Dykes, who is relocating from Tokyo to Singapore for the role, said, "I do not think the attractiveness has dimmed at all. The food is still there, the seasons, lots of destinations within Japan, great infrastructure, educated populace, long history. All those things are still there. Like France, it has a certain set of traits that are still there, and we know that people still want to go.
"When it opens up, it will help all of Asia, and we will see another big wave of travel."
A second tourism wave?
And that's what most of Asia-based travel companies are waiting for, the second wave of travel to come when North Asia opens up.
Singapore's low-cost carrier, Scoot, recently announced that it was relaunching flights to Hokkaido on Nov. 1, with nonstop flights to Sapporo and one-stop options via Taipei. That immediately set the rumor bill buzzing — "does the airline know something we don't?" – and sparking flight searches and bookings for the winter season.
With this move marking the restoration of all of Scoot's pre-pandemic destinations to Japan — daily service to Hokkaido and Tokyo, four times weekly to Osaka – comes anticipation that perhaps Japan will be fully opened by the winter season.
Dykes is not commenting on the speculation but said Expedia was certainly ready for the reopening of all markets in Asia. Pre-pandemic, Expedia Group was responsible for driving every seven in 10 U.S. travelers to Japan, and he said he expects the group to get up to that figure when borders reopen fully.
More Postcards
• A return to Siem Reap, and quieter days
• Greetings from Thailand: Recalling the past, indulging in the present
His concern, which is shared by other Japanese industry professionals, is whether Japan will be prepared for the wave of travel returning due to human resource issues. "There are definitely issues. I've been hearing a lot of stories: lodging, airlines, having difficulty finding people [to work]. This is compounded by the fact that there is no immigrant culture, a shrinking labor population, and people have left the industry. I do worry about that," he said.
In that, Japan is not alone. The labor crunch is a universal issue in most developed markets, including Singapore. Covid hollowed out the industry, which is still struggling to heal from the devastation of the pandemic.
There are a couple of other social issues unfolding in Asia that are worth noting, in terms of how it may impact travel flows in the future – notably Thailand's legalizing of cannabis and Singapore's repealing of a law that bans gay sex, effectively making it legal to be LGBTQ in the city-state. Singapore is the latest place in Asia to move on LGBTQ rights, following India, Taiwan and Thailand.
Dykes, who is passionate about inclusion and diversity, says that "it is important our workplace reflects the diversity of the travelers we serve; we are 47% women at Expedia Group, and in Asia Pacific, we have good balance throughout. We want to work on under-represented identities around accessibility and inclusivity."
In that regard, he said Japan is also changing.
"We have seen a generational shift in the way society thinks about these issues; we do need more women in leadership in Japan, and more needs to be done. But what used to not be talked about is default now; for example, LGBTQ: now, it's normal to talk about it and discuss.
"There has been a generational shift in change of mindsets; every country is on a journey."
So celebrate with us in Asia as we continue on our journey toward living with Covid and the new world we will emerge into.
Yeoh Siew Hoon, editorial director of Northstar Travel Media Asia, is
the founder and editor of Web in Travel, a content and community
platform for online travel professionals in the Asia-Pacific region.
Source: Read Full Article