An air of intrigue still lingers over Tangier. For decades, Morocco's most international city has harbored a colorful assortment of spies, war correspondents, artists and rock stars amid the twisting alleys of its ancient medina.
Now, a new luxury hotel, the Fairmont Tazi Palace Tangier, is providing some mystery of its own to the White City, at the northern tip of Morocco, where the Atlantic collides with the Mediterranean.
The hotel, which opened in November, sits on a scenic hilltop and encompasses a palace built and abandoned in the 1920s by an advisor to the sultan. Meticulously restored and expanded, the Tazi Palace offers some unexpected surprises, including a speakeasy and a pottery studio where guests can create their own souvenirs.
Tangier's prominent Tazi family envisioned the palace as securing ties to Morocco's royalty. But political winds shifted. The French took over the prosperous port city known for its whitewashed building facades and fusion of Arabian and European cultures.
The property was neglected for nearly a century. But as Tangier's fortunes began to rise again in the 2010s, public and private investors re-envisioned the weedy summit as the core of a five-star luxury retreat. The hotel's construction also coincided with a major city face-lift initiated by the Moroccan government that has helped put Tangier on several lists of best places to visit, including Travel + Leisure's 2023 list.
The 133-room hotel is part of the Fairmont brand that is now owned by Accor. The buildings were designed to incorporate traditional Arab-Andalusian features such as arched doorways with contemporary amenities such as Italian marble. The result is cosmopolitan — yet bohemian — enough to reflect this vibrant multicultural city of 1.3 million people that's just a dozen miles from the Spanish coast.
As Fabien Gastinel, the hotel's congenial general manager, told me during a recent visit, the aim is to "infuse guests with the rich history of the city in a palatial setting that invites exploration and relaxation."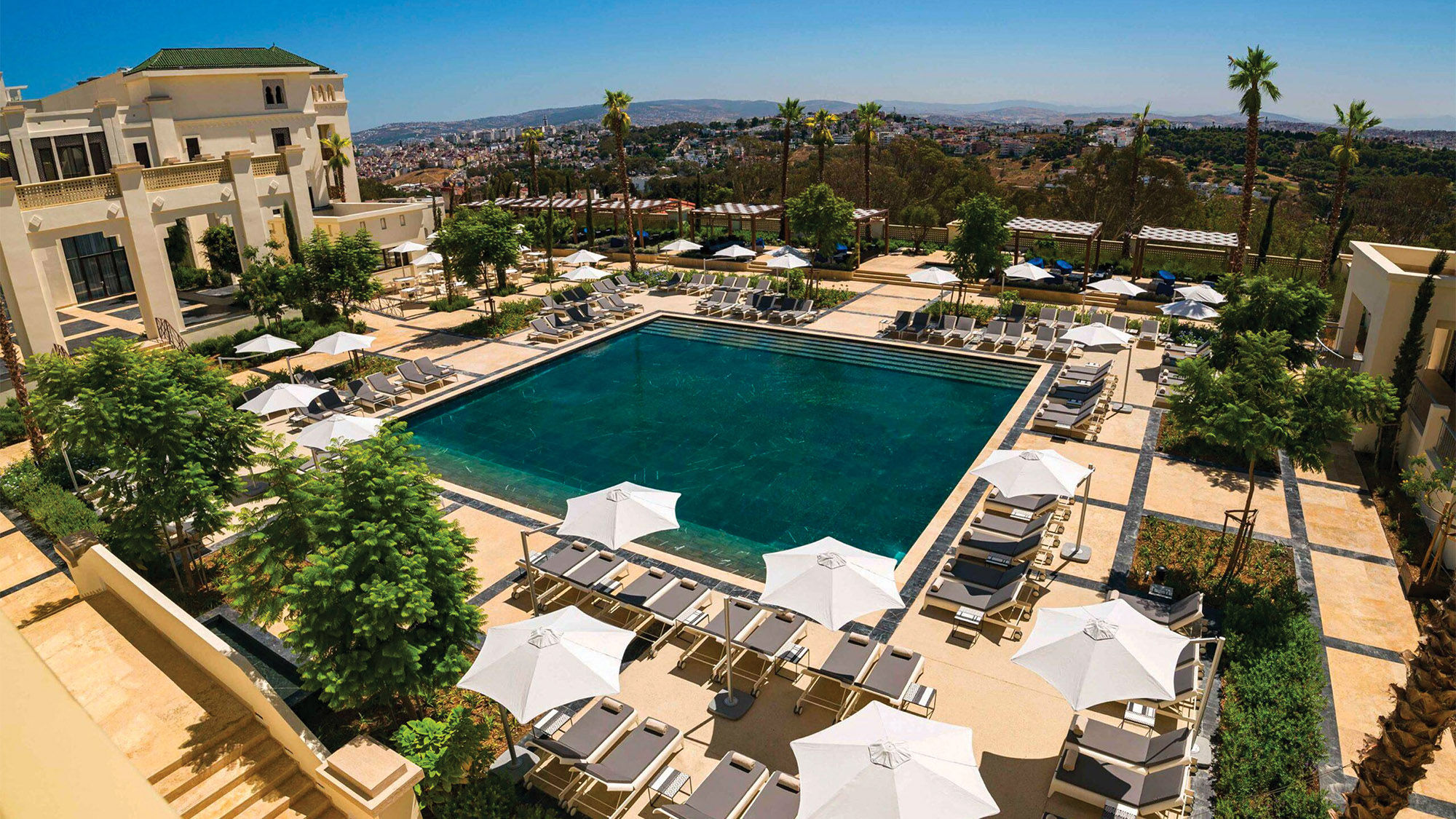 Grandeur at every turn
Though still jet-lagged, I couldn't resist exploring. As I strolled through the cream-colored entryway, my eyes focused on the soaring 40-foot ceiling of the palace's original foyer. Windows near the top infuse the room with light that's reflected off colored glass panels and chic fiberglass chairs. 
The splendor continues throughout the nearly nine-acre property that offers views of the Rif Mountains and glimpses of the sea in the distance. Public and private spaces feature traditional Moroccan design elements installed by local artisans, such as hand-laid zellij tiles, tadelakt plaster and intricate lattice woodwork known as moucharabieh. 
From the foyer, open-air walkways connect two multistory wings of guestrooms and stylish restaurants. In between, visible from the foyer and its expansive patios, is a huge pool with water as blue as the Mediterranean. Lush gardens buffer city noise. Centenary eucalyptus trees tower over more recent plantings of palm, olive and citrus trees, including fragrant tangerine trees named after the city.
Spacious guestrooms soothe with a palette of Mediterranean hues. Black-and-white photographs recount the city's past, while modern Moroccan art reflects its future. Quirky features include a stack of suitcases reworked as dresser drawers. Rooms include espresso machines and electric kettles for Morocco's signature mint tea.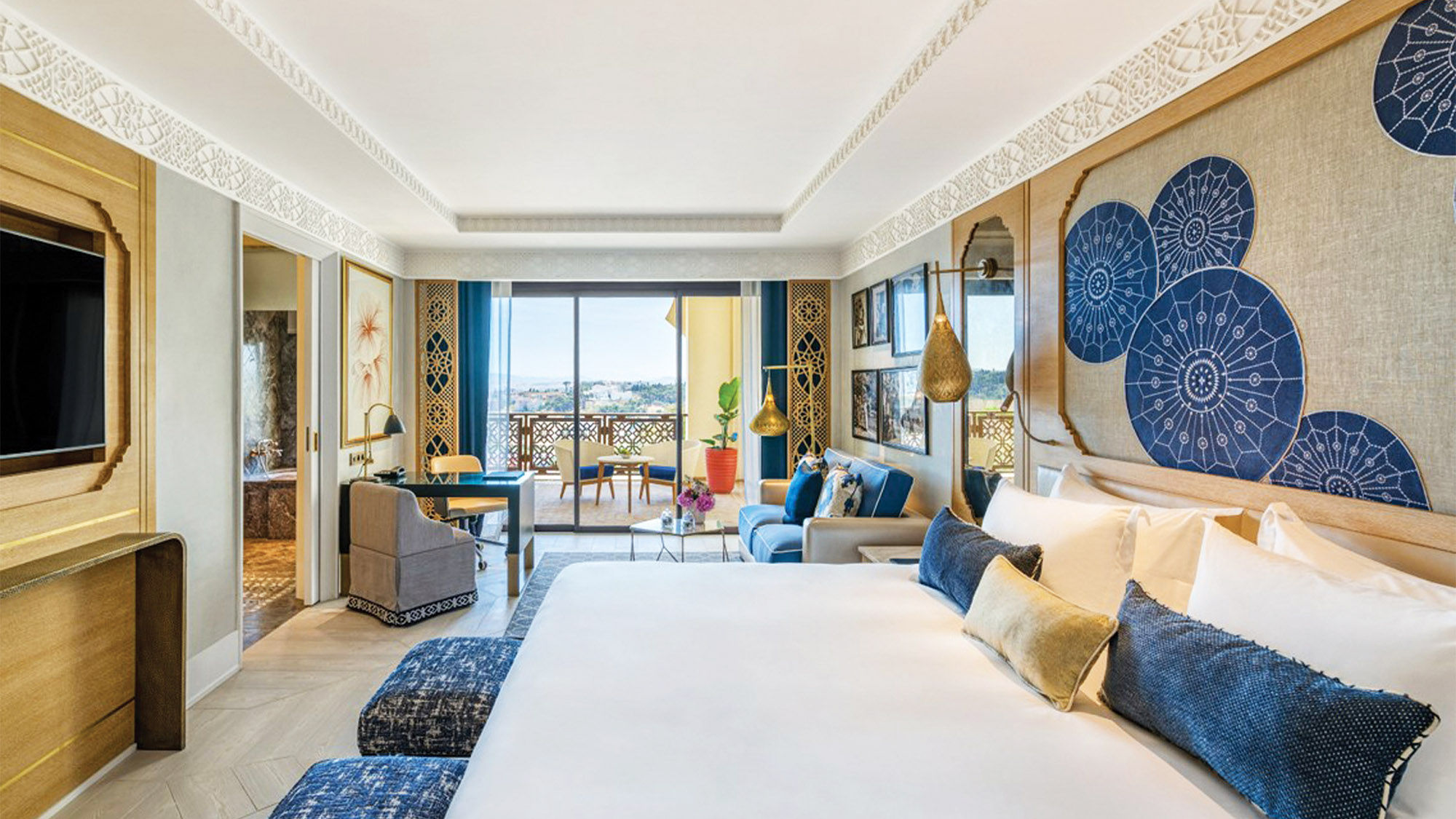 Watching a golden sunrise over the twinkling lights of Tangier's skyline wasn't intentional. Despite jet lag, the view from my private covered patio was a delightful surprise from my sixth-floor room.
Ground-floor guestrooms open to private gardens. For those in need of additional space, there is one signature suite and two penthouses. The Katara Suite is truly palatial, covering 3,500 square feet, with a dining room that seats 12 and a circular soaking bathtub.
A lavish spa offers a slate of holistic experiences such as massages in 10 beautifully appointed rooms to a private hammam. Some of the loveliest views of the city emanate from the yoga room, workout area and plunge pool on the spa's rooftop.
Skin-care products include well-known Moroccan brands in guestrooms and Swissline Cosmetics in the spa.
Mediterranean on the menu
Authentic Moroccan-Mediterranean cuisine takes center stage at the hotel's three main restaurants. Head chef Christopher Blake is a veteran of La Mamounia, Marrakesh's signature hotel that also enjoys international renown for its restaurants.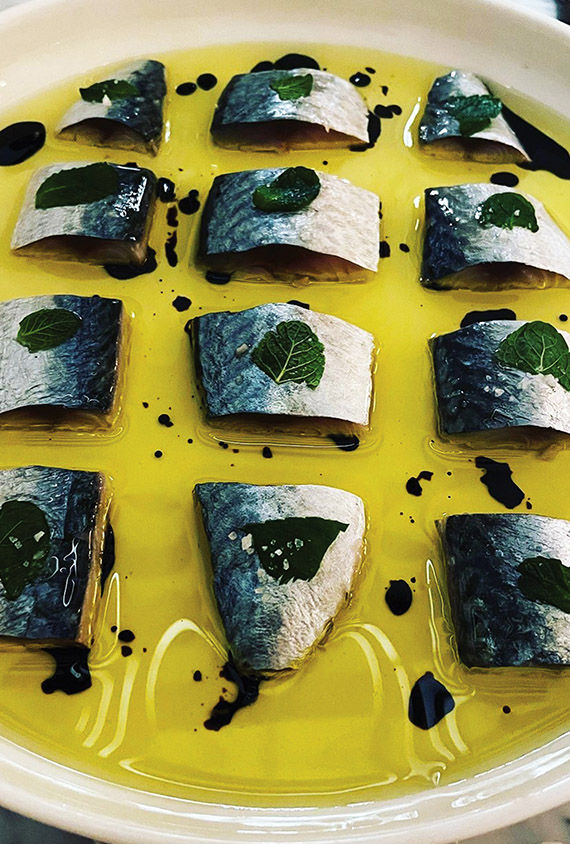 Fresh ingredients "from the sea and the garden" infuse the northern Mediterranean dishes at Crudo from breakfast to dinner. Morning pastry options like the apple crumble are decadently sweet, while traditional dishes such as quail eggs with khlea (Moroccan dried meat) offer savory local flavor. 
At dinner, vegetable dishes like steamed carrots with feta and tender green beans with olives steal attention from main dishes. But the inventive tuna filet with almonds and caperberries and the melt-in-your-mouth mackerel poached in olive oil are not to be missed. A parade of colorful desserts worthy of photos proved irresistible most nights.
Cafe Clementine, adjacent to the spa, serves the hotel's healthiest fare, while the poolside Siddhartha Lounge offers more casual bites for those who can't get enough of the Mediterranean sun. The Rose Room is the place to sample exotic teas and delicate cakes.
Parisa provides the hotel's premier dining experience, delivering authentic Persian cuisine that includes shareable platters of meat, poultry and vegetables richly spiced with ingredients from Tangier to Doha, Qatar.
One of the mysteries of Tazi Palace is the hidden passage connecting Parisa and Innocents, a speakeasy-style bar with a sultry ambience reminiscent of Tangier's "anything goes" days before and after World War II. A nondescript door with a hand of Fatima knocker opens to a dimly lit room adorned with floor-to-ceiling murals of exotic women. A full bar spreads over a grand piano that musically inclined guests can play while sipping craft cocktails before dinner. 
As tempting as it might be to never leave the hilltop palace, the hotel's attentive staff arranges multiple excursions into Tangier and the surrounding countryside. A tour of the White City's souk and casbah is not to be missed, as is a trip to the beach. More extensive forays are tempting, as well, including a daytrip to Chefchaouen, the Rif town known for its blindingly blue walls.
Rates vary by room and season, starting at $400 per night. For more information, visit www.fairmont.com/tangier. 
Source: Read Full Article