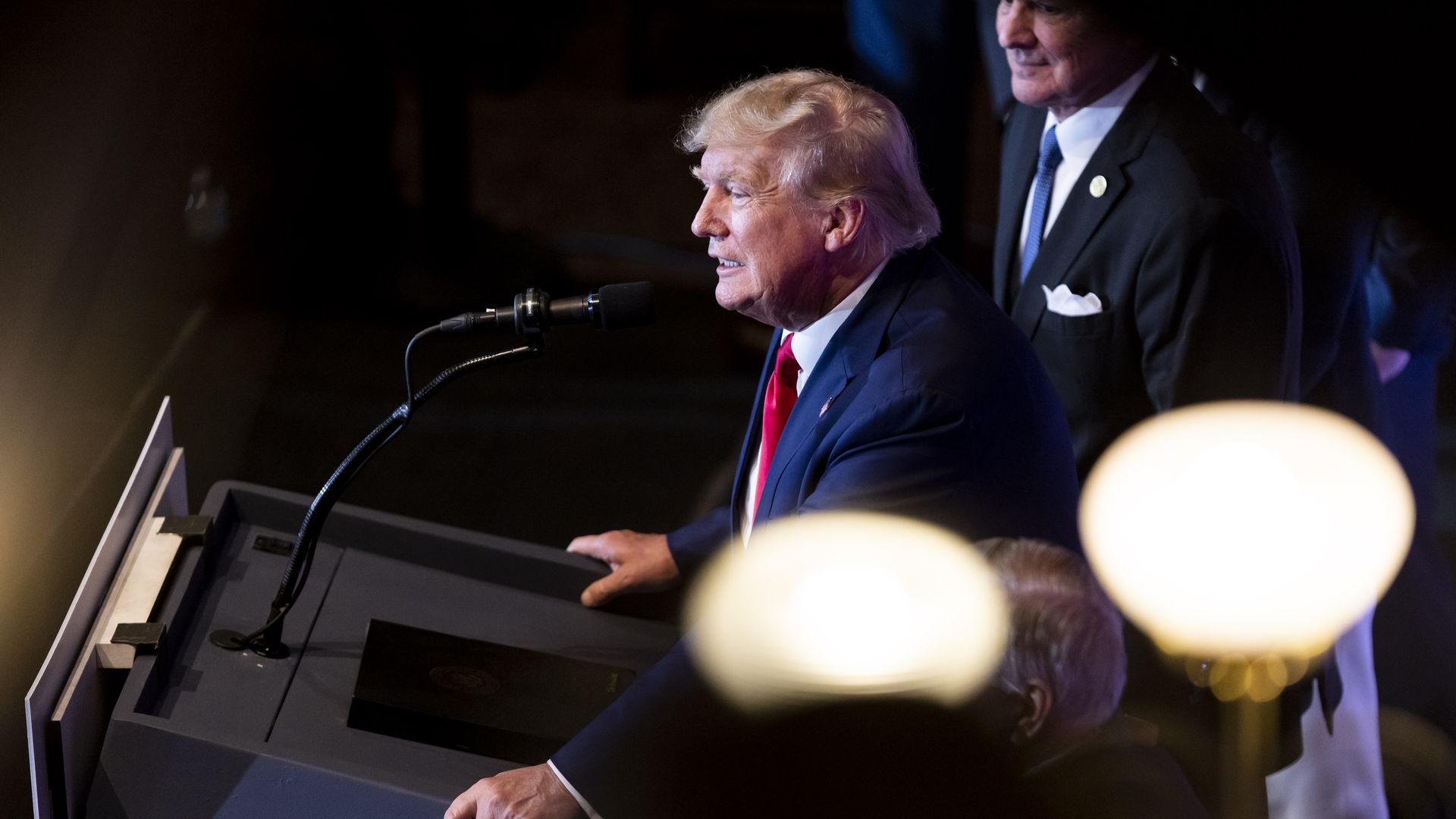 Former President Trump speaks during a campaign event at the South Carolina State House on Jan. 28. Photo:Sam Wolfe/Bloomberg via Getty Images
Former U.S. ambassador to the United Nations Nikki Haley's presidential announcement officially set in motion the 2024 contest for the Republican nomination, bringing with it a brewing feud over endorsements.
Why it matters: The endorsements will provide a clearer look at the divisions within the GOP and reveal which Republicans abandon former President Trump, whose campaign has had a muted start following an underwhelming 2022 midterm elections showing.
Florida Gov. Ron DeSantis (R) earned an endorsement from Freedom Caucus member Rep. Chip Roy (R-Texas) on March 15, even though DeSantis has not formally announced his candidacy.
"The next president of the United States must be a vibrant and energetic leader with the faith, vision and courage to chart a new course," Roy said in his endorsement.
"America needs a leader who will truly defend her and empower the people against the destructive force of unrestrained government and corporate excess, profligate spending and woke cultural indoctrination," he continued. "That leader is Florida Governor Ron DeSantis."
Roy was one of the GOP-hardliners who opposed Kevin McCarthy's prolonged bid for the speakership. He broke with Trump after the 2020 presidential election and opposed efforts to block President Biden's win.
DeSantis is unlikely to make an official announcement until at least May.
The big picture: Haley's campaign launch in February made her the first candidate to mount an official challenge to Trump, who is also her former boss, but other candidates are expected to enter what will likely be a crowded field.
Trump, who launched his campaign in November, so far has earned endorsements from congressional Republicans including Sens. Lindsey Graham (S.C.) and J.D. Vance (Ohio) and Reps. Andy Biggs (Ariz.) and Lauren Boebert (Colo.), among others, per the Washington Post.
Haley earned her first endorsement from House Freedom Caucus member Rep. Ralph Norman (R-S.C.). Norman described her as a "fierce [and] a bold leader, who will fight for America."
"It's time for a reset and a new chapter in national Republican politics, and there's no better person to help write that new chapter than our former governor and my good friend, Nikki Haley!" Norman wrote in a tweet on Feb. 15, the day of her official announcement.
Norman has been a strong Trump ally, and he objected to certifying results of the 2020 election.
He was also one of the GOP hardliners who was a holdout during the prolonged House speakership vote for the 118th Congress.
Republican Don Bolduc, who lost New Hampshire's Senate race in 2022, endorsed Haley on Feb. 16, writing in a tweet that Haley is "exactly who we need leading our country out of the mess we are in."
Bolduc embraced Trump's false 2020 election claims during his primary campaign.
Go deeper… Koch network indicates it won't back Trump in 2024
Editor's note: This story will be updated with new details throughout.
Source: Read Full Article