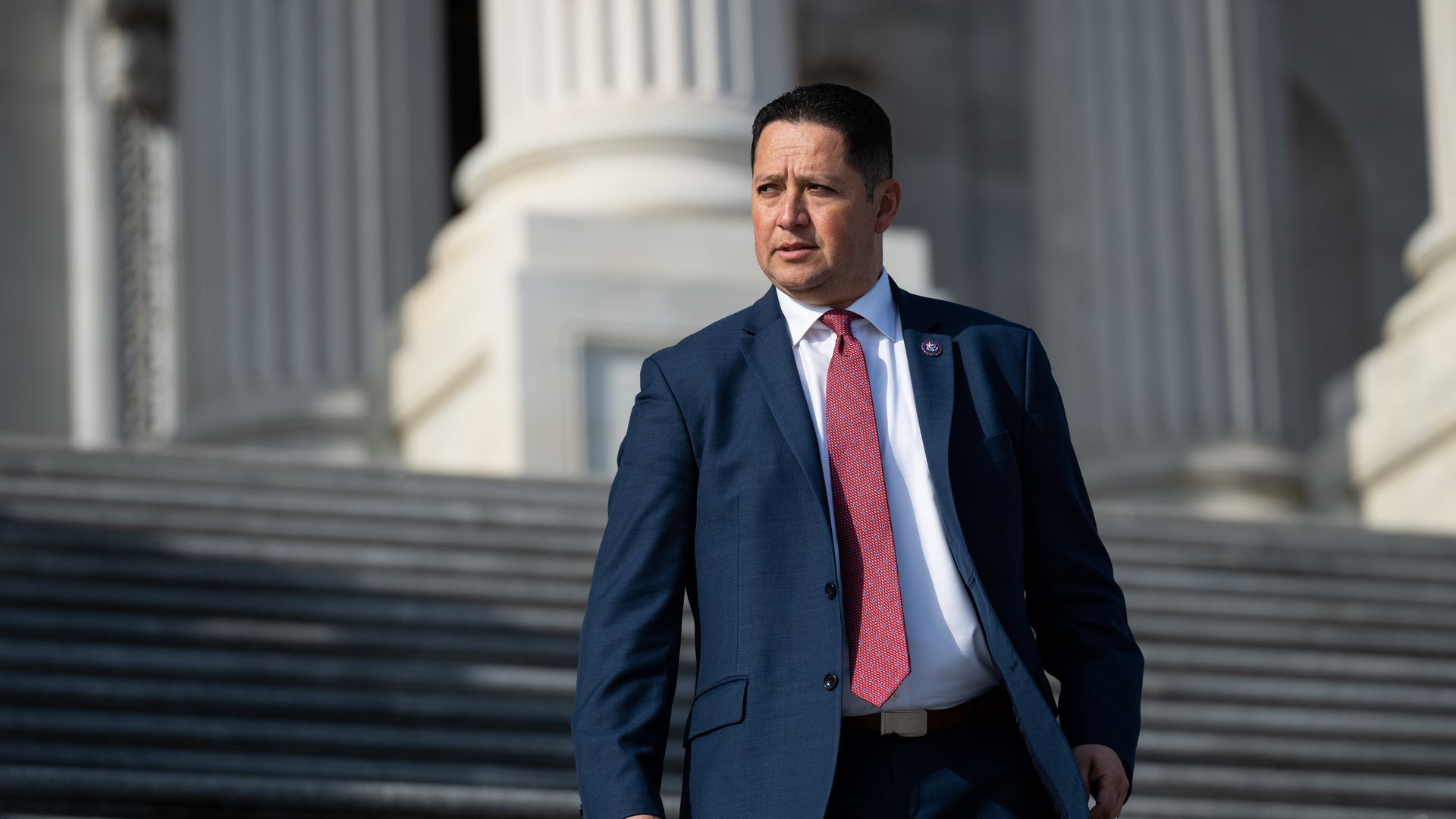 Rep. Tony Gonzales walks down the House steps after votes on Jan. 12, 2023. Photo: Bill Clark/CQ-Roll Call, Inc via Getty Images
The Texas Republican Party voted Saturday to censure Rep. Tony Gonzales (R-Texas) in a rare move in response to his break from the GOP on several pieces of legislation.
Why it matters: Gonzales has voted against party lines several times since he was first elected in 2020, including for new gun safety laws following the Uvalde school shooting in his district.
Tensions reached a boiling point after his recent votes to codify same-sex marriage and oppose a border security bill proposed by fellow Texas Republican Rep. Chip Roy.
Details: The Medina County GOP first censured Gonzales last month, accusing him of engaging in a "pattern of action demonstrably opposed" to the state party's principles and legislative priorities.
Fifteen other counties in Gonzales' district have since passed resolutions concurring with the Medina County GOP, the Houston Chronicle notes.
A statement from the Texas GOP said Gonzales' censure marks only the second time the state party has censured a party member. The resolution passed 57-5 when voted on by the State Republican Executive Committee, with one member abstaining.
The resolution highlights several votes Gonzales made as a member of Congress that went against GOP principles, including voting against a rules package proposed by House Speaker Kevin McCarthy.
The big picture: The censure, which requires a three-fifths vote among the 64 members of the State Republican Executive Committee, means Gonzales could face disciplinary action including an end to financial support for his campaign if he runs again in 2024, according to party rules.
Gonzales is also "discouraged from participating in the 2024 Republican Party Primary," the resolution says.
Gonzales, first elected in 2020, easily won re-election last November in his district, which is heavily Hispanic.
Source: Read Full Article