Track-bred Z06 C8 Corvette Stingray gains more aggressive aero, weight-saving measures and a more powerful V8 in a bid to beat the Porsche 911 GT3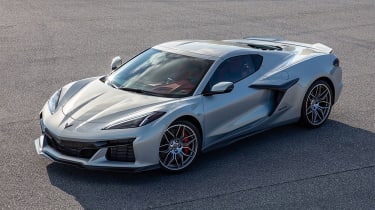 Chevrolet has given us our first look at the hard-edged, track-honed Z06 variant of the C8 Corvette, which the brand will reveal in October. 
We've previously spied the car testing at the Nurburgring in camouflaged, pre-production from, but Chevrolet has revealed a near-production ready version of the car on social media, head of a full debut next month. 
Porsche 911 Turbo S vs McLaren GT
The C8 Z06 adopts a new, more aggressive front bumper than the standard car which incorporates a pair of 'fangs' and three deep air vents into the bodywork. The headlights of the Z06 are unchanged, but interestingly, the front wheel arches bulge out with an additional sharp crease, suggesting a significant increase in track width.
Created to battle it out with the Porsche 911 GT3, the Z06 also receives a new set of wheels, probably hosting wide-section high performance tyres. The C8's distinctive side vents which cool the mid-mounted V8 have been opened up, too – extra airflow is necessary to feed larger radiators for an all-new V8, which will replace the standard car's 495bhp 6.2-litre unit.
The engine cover has also been revised for the track-ready model, with a new, deeply sculpted design that features additional heat ventilation. There's also a larger rear lip spoiler for added downforce. Chevrolet's two teaser images show the rear wing in two different positions, suggesting the use of active aerodynamics, or the availability of an optional aero pack. The engine cover has also been revised for the track-ready model, with a new lightweight composite arrangement that features additional heat ventilation. 
There's no official confirmation as yet, but it's thought that lurking under that new engine cover is a 5.5-litre V8 that's a development of the same engine used by the C8-R racer. If so, we expect it to feature a flat-plane crank that will trade refinement for outright power. Speaking of which, expect around 700bhp: that should provide for a sub-3.0-second 0-62mph sprint and a top speed of around 200mph.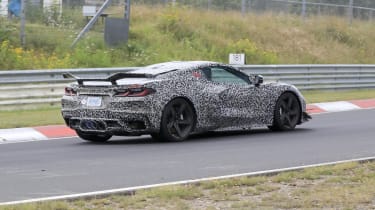 Adding credibility to the theory of a race-bred engine making its way into the Z06, a teaser released by Chevrolet earlier this year featured an official sound clip of the V8 in action. It revealed that, instead of the 6.2-litre's deeper burble, the performance V8 would have a high-pitched sound reminiscent of a high-revving flat-plane crank V8.
Helping the Z06 remain stable at high speed is the aforementioned new aero, which will also feature a large rear diffuser that repackages the four exhaust pipes within the centre to optimise air flow.
Deploying all its power to the rear wheels will be an updated version of the C8 Corvette's eight-speed dual-clutch automatic. A manual six-speed will not be an option, and there's no word if the most extreme version of the C8 Corvette is being developed for right-hand drive. 
The new Z06 will be available in 2022 (as a 2023 model year car in the USA). There's no word on price yet, but expect a huge premium over the standard Corvette Stingray, which is priced from £81,700 in Britain. Currently, there's just one licensed Chevrolet dealership in the UK, which is located in Virginia Water, Surrey.
Find out about the best performance cars currently on sale…
Source: Read Full Article