EV range is a hot topic right now so we've listed the top 10 electric cars with the longest range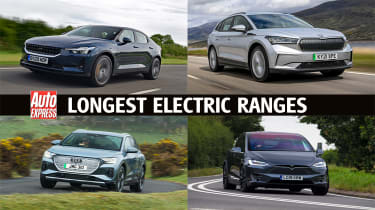 'Range anxiety' is a phrase often thrown around to describe the fear EV owners face when driving their electric car with a level of remaining battery charge that may not get them to their destination. As a result, electric cars with the longest range have a real competitive advantage. If you're wondering which electric cars have the longest range, you can find out below. 
Manufacturers have quickly realised the importance of range to existing petrol or diesel car owners and now some electric cars can travel just as far on a single charge as an internal combustion engined (ICE) equivalent can manage on a full tank – all the while producing zero emissions at a cheaper running cost to the owner. 
Best electric cars to buy 2021
There's no doubt that the UK's charging infrastructure still remains a stumbling block for electric cars and their owners. Charging points are increasing in number across the country and charging times are dropping but the chargers that are there are still often in use compounding the fact that recharging an EV is still noticeably slower than filling up a petrol or diesel vehicle. 
With increasing investment from the Government and charging infrastructure providers to improve EV charging options coupled with the appeal of emission-free motoring and cheaper running costs than ICE vehicles, electric cars are more appealing than ever. Manufacturers too are in a race to develop enhanced batteries and electric car technology that will increase the range available in electric cars to the point that range anxiety will become a thing of the past.
If you're tempted to join the EV revolution but are still feeling pangs of doubt where the range of electric cars is concerned, we're here to help. Below you'll find the top ten longest range electric cars on sale right now. The figures shown below are all derived from the WLTP efficiency test, which is designed to be more representative of the range drivers will actually achieve in the real world than the old NEDC test. 
The 10 longest range electric cars on sale now
10. Kia EV6 – 316 miles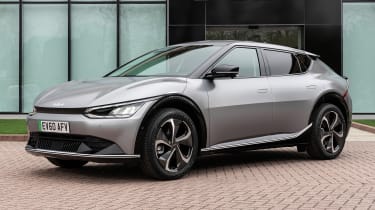 Kia's new EV6 is the brand's first electric car not to have a combustion-powered sibling. KIA has combined the technological developments from its existing electric offerings and wrapped them up in a brand new and much more striking package. 
Unlike most Kias, the EV6 is being targeted towards the more premium end of the market – much like the Hyundai Ioniq 5 – with pricing starting at over £40,000. As is to be expected at this price point, technology and luxury touches are plentiful – in base trim the EV6 includes vegan black 'leather' upholstery, navigation-based smart cruise control with stop & go, and a curved panoramic display with twin 12.3" touchscreens. 
The entry-level car uses the same 77.4kWh battery as the rest of the range, sending the power to a 226bhp rear-mounted electric motor, and while this will likely prove plenty of power for most people, the range-topping EV6 GT's dual-motor setup produces 576bhp and 740Nm of torque. This means the GT is capable of launching from 0-60mph in just 3.5 seconds – over a second faster than the KIA Stinger.
9. Volkswagen ID.4 – 322 miles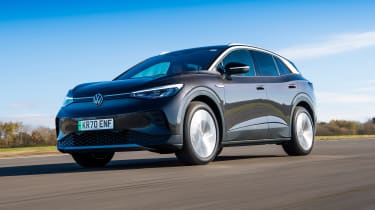 The Volkswagen ID.4 is the brand's first entry into the growing all-electric SUV market, with practicality and simplicity being the focus for the second production car to wear the new ID badging.
A range of up to 322 miles, plenty of passenger and luggage space, and a comfortable ride make the ID.4 a pretty solid contender for anyone looking to make the switch from a petrol or diesel family car. In order to get the maximum range of 322 miles you will need to opt for the 77kWh Pro Performance. However, all ID.4s should return over 200 miles, which should prove plenty for everyday driving including longer distances.
8. Audi Q4 E-Tron Sportback – 331 miles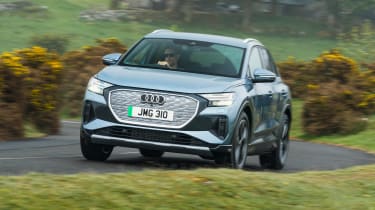 Built upon the same VW MEB platform as the ID.4, the Audi Q4 e-tron brings a similar amount of practicality and range but with a lot more in the way of luxury. There are two versions available, the standard SUV and the coupe-styled Sportback. 
Audi is expecting the Q4 e-tron to become  its second-biggest selling car after the A3 hatchback, so there is a lot of pressure on its customer appeal. In order to address this, the Q4 e-tron is a very quiet and comfortable car to drive, with soft, high-quality materials to be found all throughout the interior. Audi's MMI infotainment system is operated via a 10.1-inch display but there are good old-fashioned physical buttons for the climate control system, meaning they can be operated with ease while driving. 
Electric car charging in the UK: prices, networks, charger types and top tips
There are four trim levels available: Sport, S Line, Edition 1 and Vorsprung, each of which brings different styling cues and features, as you would expect, but the claimed range of the Q4 e-tron can notably vary depending on your chosen spec. The 35 e-tron offers a maximum of 211 miles, while the 40 Sportback can achieve up to 331.
7. Skoda Enyaq iV 80 – 331 miles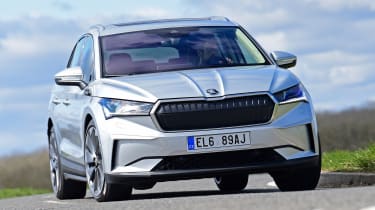 The Enyaq iV is the first fully-electric Skoda and only its fifth SUV. Given the popularity of the Kodiaq, Kamiq, Karoq and Yeti, the Czech brand has already proven its ability to build good-quality, appealing SUVs, and the Enyaq iV should help to uphold this image. 
The styling bears some similarity to that of the combustion-powered Kodiaq, but the Enyaq iV sits lower, has a more swept-back appearance at the front, and features a closed grille to deflect air and reduce drag. Combine this aerodynamic styling with a low centre of gravity, and this two-tonne car proves a surprisingly capable handler. Acceleration is also reasonable with a 0-62mph time of between 8.6 and 8.7 seconds – depending on spec.
Two versions are available, either the Enyaq iV 60 and the Enyaq iV 80 – The former features a 58kWh battery and a range of up to 256 miles, while the latter offers 77kWh of usable energy and a maximum certified cruising range of 333 miles.
6. Polestar 2 – 335 miles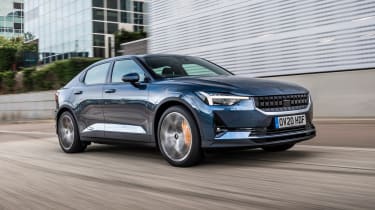 The Polestar 2 combines a bold and chunky design with some more familiar touches from sister brand Volvo, and although it is the brand's  first mainstream electric car, the Polestar 2 boasts a number of credentials that make it a real contender for even the most established EV manufacturers.
Buyers have the choice of either a single or twin motor setup, with the single motor long range with 78kWh battery option offering the highest range of 335 miles, while the standard 64kWh single motor offers up to 273, both of these models will accelerate from 0-60mph in 7.4 seconds. If more power is what you require, the long range dual motor offers 408bhp, 298 miles of range and a reduced 0-60mph time of 4.7 seconds. 
In terms of specification, Polestar offers just one additional Performance pack to the already generous level of standard equipment. The extra kit is primarily focused on improving the driving characteristics of the car and includes Brembo brakes, Ohlins dampers and 20-inch forged alloy wheels, along with gold-coloured seat belts to match the colour of the brake calipers. 
5. Volkswagen ID.3 – 336 miles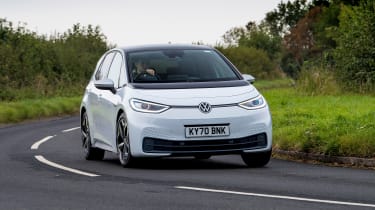 The ID.3 was the first of what Volkswagen intends to be a long line of fully-electric models. Something of a successor to the e-Golf, this family hatchback offers competitive pricing, plenty of comfort and solid real-world range – with the highest claimed range of 336 miles being found in the 'Tour' trim with 77kWh battery.
Pricing for the ID.3 starts from around £27,000 after the government's plug-in car grant, so it is one of the more affordable electric cars currently on the market, yet it does very well in standing out from its rivals. It is a very quiet and refined car to drive, with the suspension setup proving highly capable of ironing all but the harshest road imperfections. Standard equipment across the range includes LED headlights, front and rear parking sensors, keyless start, climate control and heated front seats. Moving up the range brings options such as a panoramic sunroof, a rear-view camera and an upgraded audio system.
4. Tesla Model X – 360 miles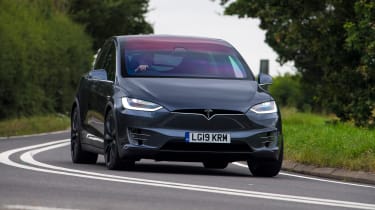 Despite having a hefty SUV body and seating for seven, the Tesla Model X can return up to 360 miles on a single charge. 
Only the Model X Long Range version is capable of this range, but the Plaid model only drops to 340 miles. With the Plaid's rapid acceleration of 0-60mph in 2.5 seconds, it certainly is impressive – especially for an SUV – but considering that the Long Range takes only 3.8 seconds, that isn't exactly sluggish, either. Where one of the biggest differences between the two variants lies is with the price, with the Plaid commanding a £12,000 premium over the Long Range.
Best low emission green cars 2021
In terms of practicality, the signature lifting 'Falcon' rear doors allow easy access to the second and third rows of seats, but the general styling of the Model X renders it more of a crossover than a fully-fledged family SUV. As a result, the first two rows of seats provide a great amount of room for all passengers but the third row is only really suitable for children. As is to be expected with a Tesla, there is plenty of technology onboard to keep passengers entertained and aid the driver in a number of ways.
3. Tesla Model 3 – 360 miles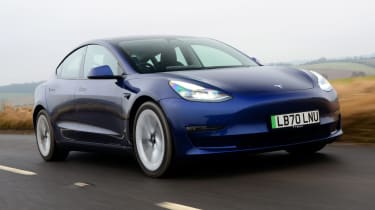 The Tesla Model 3 was one of the most eagerly anticipated cars ever to hit the market, as it was billed as Tesla's affordable electric car. In reality, while the 'Standard Range Plus' version starts from a not insignificant £41,000, the 'Long Range' version is even more expensive at over £48,000, with the range-topping 'Performance' starting close to £59,990.
Many will excuse the price tag as the Model 3 offers so much alongside its impressive range. A 0-62mph time of 4.2 seconds in the Long Range model is enough to shame some serious sports cars and it also handles brilliantly for a practical family saloon.
2. Ford Mustang Mach-e – 379 miles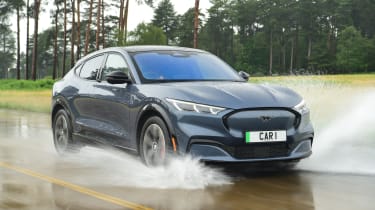 The Mustang name is nothing short of legendary, so when Ford announced that the Mach-e – a fully-electric family SUV – was going to be a 'Mustang', it immediately placed a lot of pressure on the car to impress.
Although a very different car from its V8-powered namesake, the Mustang Mach-e is indeed impressive. Not only does it offer a large amount of space for family use but the entire range has well over 200 miles of real-world range, all the way up to a claimed 379 miles when fitted with the 88kWh battery and rear-wheel-drive setup. The range-topping GT inherits some of the traditional Mustang's drag-strip credentials, too, with a 0-62mph time of just 3.7 seconds – although this isn't quite as quick as some rivals. Selecting the 'Untamed' drive mode from the three available options also adds a fake V8 engine sound into the cabin – should that appeal to you.
Inside, the Mustang Mach-E feels a little more premium than some other Ford models, with standard kit including dual-zone climate control, a rear view camera, heated front seats, heated steering wheel, a 15.5-inch touchscreen and a 10.2-inch digital instrument display.
1. Tesla Model S – 405 miles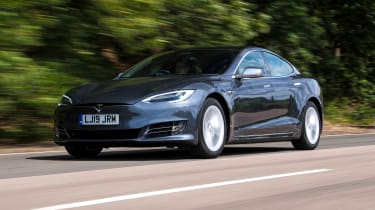 As the competition continues to get better, the car that cemented Tesla's place in the electric car market, the Model S, has recently undergone a major update. With a headline range figure of 405 miles available with the Long Range model, the Model S continues to lead the way. 
The range is just the start, though, as the Long Range Model S will sprint form 0-60 in just 3.1 seconds, keeping it well in the sights of top supercars. If for whatever reason that isn't fast enough for you, the new Model S Plaid will bring this time down to an astonishing 1.99 seconds with its peak output of 1,020bhp – even if there are a lot of factors involved in order to achieve this kind of performance.
Technology is as plentiful as ever and the Model S retains its somewhat minimalist interior styling – the most obvious difference being the 17-inch touchscreen now being horizontal rather than vertical. Tesla's Autopilot system is also available with the option of 'full self-drive' capability, but this is currently a £7,000 option and, naturally, carries some safety restrictions. Practicality is still a strongpoint of the Model S, too, with 894 litres of luggage space and plenty of space to comfortably seat 4 adults.
Looking to cut on emissions and costs? Read our list of the cheapest electric cars on sale.
Source: Read Full Article