New Porsche concept vehicle likely to be fully electric, and could be a sports car or supercar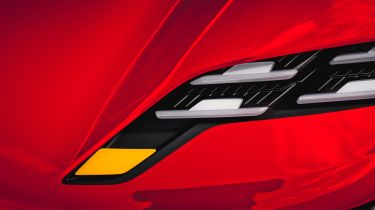 Porsche has confirmed it will unveil a new "future-oriented" concept at this year's Munich Motor Show, accompanying the announcement with a teaser image of the new show car. 
Porsche has previously announced that, by 2025, half of all the cars it sells will feature some form of electrification. That figure will swell to 80 percent by 2030, and the brand has set itself the goal of becoming completely carbon neutral within the same timeframe.
New 2023 Porsche Macan EV teased in development programme images
We expect this concept car will be fully electric. The LED headlight in Porsche's teaser image looks like a reshaped version of the Taycan's lamp, with a new indicator reaching down towards the grille. So far, this slimmer headlamp design has only been used on the company's electric vehicles.
We expect this new concept won't be a preview of Porsche's electric replacement for the Macan, either. We've already seen the SUV near-enough uncamouflaged in its production bodywork, and its front end doesn't resemble that of this teaser.
At @iaamobility, #Porsche is looking to the future, celebrating the world premiere of a future-oriented concept study on 6 September – live on https://t.co/e3Er20H448. #Porsche #IAA21 #PorscheIAA2021 pic.twitter.com/7gDaGQjG7d
The car in the teaser also looks much more low-slung than an SUV, suggesting that this new concept could be the brand demonstrating what an all-electric sports or supercar car made by Porsche could look like. It could leverage or preview technology for the brand's 2023 hybrid racer, currently in development for the World Endurance Championship's upcoming LMDh class.
The company has a history of introducing new technologies on flagship supercars. In the 80s, we got the four-wheel drive 959. The 2000s brought the V10-engined Carrera GT and, most recently, Porsche launched the plug-in hybrid 918 Spyder. 
What do you make of Porsche's Munich Motor Show concept? Let us know in the comments below…
Source: Read Full Article