Launch edition of Volkswagen's flagship all-electric saloon claims 384 miles of range, but a bigger-battery model with a 430-mile range is coming soon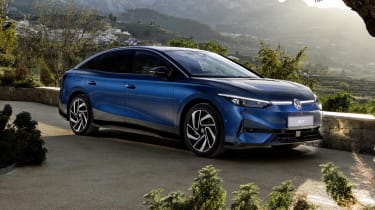 Volkswagen's long-awaited rival to the Tesla Model 3 and BMW i4 has finally gone on sale in the UK, with the new ID.7 flagship EV attracting a starting price of £55,570 – nearly £6,000 more than the Tesla Model 3 Long Range.
There's just one model available to order at the moment – the ID.7 Pro Launch Edition – which is equipped with a 77kWh battery that offers a claimed range of up to 384 miles. It powers a single electric motor that drives the rear wheels, producing 282bhp and 545Nm of torque, which is enough to hit 62mph from a standstill in 6.5 seconds. 
Launch Edition models will come generously equipped with 19-inch alloy wheels, LED headlights, a 15-inch central touchscreen with Apple CarPlay and Android Auto, an augmented-reality head-up display, a wireless smartphone charging pad, heated front seats, 30-colour ambient lighting and keyless access. Numerous driver-assistance systems are standard-fit too, including adaptive cruise control, lane-change assist, driver-drowsiness monitoring and a rear-view camera.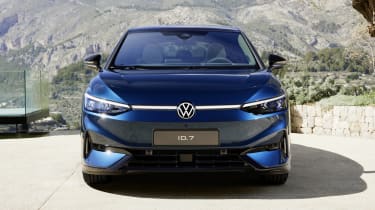 The first ID.7 buyers who place their orders before 2 January 2024 will also receive a free Ohme home wallbox charger, or £750 in charging credit from 'We Charge by Elli', the Volkswagen Group-owned public charging network.
The ID.7 line-up will expand considerably next year, and not just with some different trim levels like those offered on the other members of VW's ID. family of EVs. For starters, Volkswagen has confirmed a bigger-battery ID.7 is coming soon, boasting an official claimed range of around 430 miles – enough to drive from London to Edinburgh in one go, and trump the facelifted Model 3 and Polestar 2's range. This VW will also boast a maximum charging speed of 200kW, up from 175kW in the ID.7 Pro.
And if the ID.7 saloon isn't quite practical enough for you, an estate version called the ID.7 Tourer is also due to land in 2024. This will serve as an all-electric alternative to the new ninth-generation Passat, which is only available as a wagon.
Volkswagen ID.7 design and dimensions
We first saw the ID.7 in concept form as the I.D. Vizzion back in 2018, then again as the ID. Aero in 2022. In terms of design, the family link between the ID.7 and cars such as the ID.4 SUV is clear. The design diverges at the rear, with a full-width light bar that appears white until lit. The ID.7 is best described as a 'fastback', with a sloping roof leading to a hatchback boot. The slippery shape provides a remarkably low drag coefficient of 0.23Cd that certainly plays a role in the ID.7's large range figures.
The ID.7 measures 4,961mm long, 1,862mm wide and 1,536mm tall. In other words, it's much longer than the Tesla Model 3, BMW i4 or Hyundai Ioniq 6, but roughly the same width and height as these three. Meanwhile, the ID.7's MEB platform allows for a near-three-metre wheelbase, so there's plenty of legroom and a flat floor in the rear. Further back, the large 532-litre boot has a moveable floor with storage underneath for cables. 
Interior and infotainment
Inside, VW appears to have learned lessons from the poor reception that some of its recent products have had. Having sat inside the new model, we can confirm that the ID.7 has a more premium feel than the ID.4 or ID.5, with plenty of soft-touch surfaces.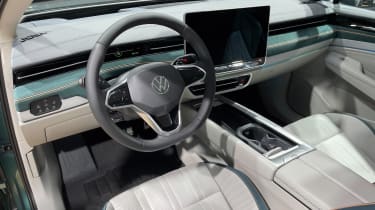 There are new 'ergoActive' electric seats that have been certified by the German Campaign for Healthier Backs, while an optional massage function features 10 adjustable air cushions. Clever adaptive climate control uses temperature and moisture sensors to find the best setting for either heating, cooling or even drying – handy if you get caught in a deluge on your way to the car.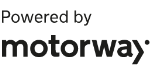 A new 15-inch touchscreen is fitted, and this has the climate functions permanently positioned across the bottom of the display. Answering a common complaint about VW's latest infotainment systems, the lower part of the bezel is backlit, so the temperature shortcuts and volume slider are now visible at night. The cabin can also be lit with a four-layer ambient lighting system, with multiple light patterns and colours to choose from. 
It's worth noting that there are no physical air vent controls. Instead, airflow is altered via the screen, while in some modes the car changes this automatically. Alternatively, owners can use the improved 'IDA' voice command system, with prompts such as "My hands are cold". The speed, direction and temperature of airflow will be adjusted to suit.
Embedded in the ID.7's minimalist dashboard is a small digital instrument cluster, which is similar to the set-up found in the Skoda Enyaq iV. Complementing the cluster is a standard-fit, augmented-reality head-up display, which appears to project features such as sat-nav instructions onto the road ahead. The optional panoramic sunroof contains a special 'polymer-dispersed liquid crystal', so it can become opaque or transparent at the touch of a button, while a 700-watt Harman Kardon sound system with 14 speakers is available. 
VW's Travel Assist function has been upgraded for the ID.7 and uses 'swarm data' from other VW Group vehicles for more accurate lane guidance and speed control. There's also an assisted lane-change feature on offer.
Range, performance and future ID.7 GTX
The ID.7 Pro available at launch can cover up to 384 miles on a single charge of its 77kWh battery. To put that in perspective, the facelifted Model 3 and Polestar 2 can crack the 400-mile mark, while the BMW i4 and Hyundai Ioniq 6 will reach up to 365 and 338 miles respectively before running out of juice.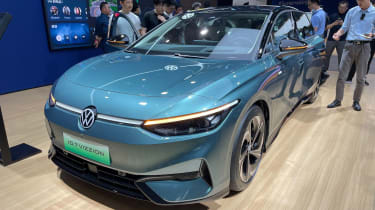 However In 2024, the ID.7 Pro S will arrive, featuring a larger 82kWh battery that'll boost the electric executive saloon's range to approximately 430 miles. If true, that'll put it among the longest ranges offered by any electric car currently on the market.
Propelling the new ID.7 is a rear-mounted electric motor that produces 282bhp and 545Nm of torque. VW says the ID.7 Pro will accelerate from 0-62mph in 6.5 seconds, so it'll be slower than the average Tesla, with the Model 3 Long Range capable of dispatching the benchmark sprint in close to four seconds. Top speed for the ID.7 stands at 112mph.
A faster ID.7 GTX with dual-motor four-wheel drive has been teased already, and was previewed by the wild ID.7 ID.X Performance concept that packed a whopping 558bhp.
We expect the ID.7 GTX will offer closer to 400bhp, and will sport more subtle visual changes over the regular ID.7, as opposed to the enormous rear wing and speed bump-munching front splitter seen on the ID.X Performance.
Which fierce rivals will the ID.7 face when it arrives? These are the best electric cars on sale right now…
Source: Read Full Article