Toyota's sporty GR brand branches out into the pick-up truck sector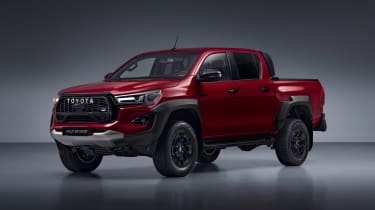 While performance pick-up trucks might be a relatively strange concept, they can generate quite a following and not wanting to miss out on the fun, Toyota has unveiled the new Hilux GR Sport II. 
When you think of the relatively new Gazoo Racing brand you'll no doubt have images of the GR86, GR Yaris and current generation Toyota Supra, but the Hilux pick-up possibly deserves to have a GR-developed variant as much as its performance-focused siblings thanks to its recent success in the Dakar Rally. 
Ford Ranger vs Toyota Hilux vs Volkswagen Amarok: 2023 group test review
Back in 2022 we saw the first version of the Hilux GR Sport and that model has now been revamped inside and out. Sales on the new GR Sport II are due to begin in early 2024. 
Only offered in the double-cab bodystyle, the GR Sport II features lightweight 17-inch alloy wheels, a black front grille with a bespoke mesh insert, more black detailing on the side steps, mirrors and door handles, plus the front bumper has been reshaped. There's also a retro 'Toyota' script across the grille, GR Sport badges and a silver underguard.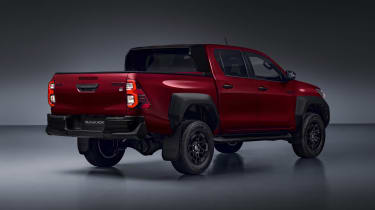 Inside it's a little less colourful than the outgoing Hilux GR Sport. Gone is the red trim piece that stretches across the dash and the red stitching on the seats, armrests and handbrake has been turned to silver. There are still red seat belts, GR-branded seats and aluminium pedals, however.
A new eight-inch touchscreen sits in the middle of the dash, losing the physical shortcut buttons that sat on either side of the display. The infotainment system features real-time updates to traffic events and integrated sat-nav. There's also Apple CarPlay and Android Auto wireless connectivity.   
The powertrain of the Hilux GR Sport II remains unchanged. It's a 2.8-litre diesel with 201bhp and 500Nm of torque with power going through a six-speed automatic transmission. In 2022, Toyota Light Commercial Vehicles manager Gareth Matthews explained why the Hilux GR Sport didn't get a more powerful engine: "UK customers aren't complaining that the [201bhp] 2.8-litre diesel is underpowered. The GR Sport has the looks that customers want while still having the right payload weight."
While the Hilux GR Sport II doesn't have nearly as much power as the 284bhp Ford Ranger Raptor, it does get several chassis tweaks to make it 'the best-driving Hilux yet' according to Toyota. 
There's a 20mm raised ride height and wider front and rear tracks – 140mm and 150mm respectively. Toyota claims the new front end improves aerodynamics and to make it smoother off-road there are new dampers. All-terrain tyres and larger front discs and rear discs replacing the rear drums also aid performance over rougher terrain.
Click here for our list of the best pick-up trucks…
Source: Read Full Article