The Mazda MX-5 RF folding hard-top roadster has been tweaked to keep it fresh, but is it now better than ever? We find out…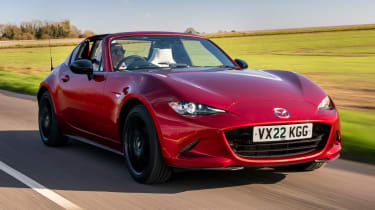 4.0 out of 5
Buy used for less at Buyacar
Verdict
The pricier RF wouldn't be our choice, but it offers something a little different that many small roadsters and convertibles don't. However, core to the MX-5's appeal is its dynamic ability, with a naturally aspirated engine you can exploit without fear of breaking the speed limit, a brilliant gearbox and an involving chassis. It's just that you also get this in the more affordable 1.5-litre soft-top.
The Mazda MX-5 is an affordable sports car icon, with Mazda shifting more than a million units during the 30-odd years it's been on sale. Most of these were soft-top cabrios, but the Mk3 featured a retractable hard-top and the RF kept this feature when it arrived in 2016. This diversified the MX-5 range and gave customers a slightly different choice in the small two-seater sector.
Now, like the soft-top, it's been updated for 2022, with a number of minor tweaks to keep the car feeling fresh in a class that's not exactly crowded. At £33,960, this top-spec 2.0-litre RF GT Sport Tech's closest competitor will come in the form of the Toyota GR86 coupé when that car goes on sale in the UK later this year.
Best convertibles and cabriolets 2022

For the asking price, you get a 181bhp engine, retained from the previous model year. Arguably the biggest change is the addition of Mazda's Kinematics Posture Control, or KPC. It's a system that applies the inside rear wheel's brake in a corner to help reduce body roll and improve agility.

More reviews

Car group tests

Caterham 170R vs Mazda MX-5: 2022 group test review
MGF vs Mazda MX-5: modern classic head-to-head

In-depth reviews

Long-term tests

Mazda MX-5 2.0 Sport Nav+: long-term test review

Road tests

New Mazda MX-5 1.5 Sport 2022 review
New Mazda MX-5 Sport Venture 2021 review
New Mazda MX-5 R-Sport 2020 review
New Mazda MX-5 2020 review

In this 2.0-litre RF, which boasts a strut brace, a limited-slip differential and firmer Bilstein dampers, the impacts aren't quite as noticeable as in the softer, less powerful 1.5 model, but it's still obvious that the RF
is superbly agile and engaging given its still relatively modest power output.

Of course, it's also heavier than the soft-top, at 1,170kg, and much of that weight is higher up due to the more complex folding mechanism for the metal roof. However, on the road under normal conditions the deficit is negligible, and with the roof up, the car's structure actually feels slightly less wobbly, so there is arguably a dynamic benefit here.

RF stands for Retractable Fastback, and refers to the roof. It's operated electrically and takes 13 seconds to raise or lower, but while it works at the touch of a button, the soft-top's simple one-catch manual mechanism is actually faster.

At 6.8 seconds from 0-62mph, this 2.0 GT Sport Tech is also quick enough. The engine doesn't quite rev with the same zeal as the smaller 1.5-litre unit and gets a little coarse higher up the range, but the MX-5's lack of a turbo really makes you work for the rewards, and in some ways it's all the better for it.

Chief among those is the interaction with the six-speed manual gearbox, which is delightfully precise and offers a lovely shift action and weight. The 2.0-litre RF gets the option of an automatic transmission, too, but we'd steer clear of this because the manual really makes the driving experience.

The steering is similarly engaging. The lack of weight, and therefore inertia, means the car is easy to place and keen to change direction. There's still some body roll despite this more focused 2.0-litre model's extra chassis parts, but this clearly communicates the level of grip available, and you can exploit the car's natural balance and easy-to-access handling.

But the ride comfort could be better, because the compact dimensions and connected feel mean you do get a sense of everything passing underneath the RF's wheels. But it's still far from uncomfortable and there is a degree of suppleness to the suspension. It's also a little more refined than the standard soft-top with the roof up.

While the RF offers the same (maybe even slightly more) dynamic benefits as the regular soft-top model, it's also hampered by the same drawbacks. It has even less boot space, at 127 litres (admittedly only three litres down on the soft-top), while the cabin feels just as cramped. The bulkier roof mechanism means headroom is even tighter with it up, there's limited storage and the overall design is starting to feel a little old now, as is the technology.

The seven-inch colour screen has wireless Apple CarPlay and Android Auto, and it's best to use one of these apps, because the standard Mazda set-up is a little clunky by comparison. Other kit included on this top-spec car includes a nine-speaker Bose stereo, climate control, heated leather seats, full keyless go, cruise control, a good level of safety equipment and a set of smart 17-inch gunmetal BBS alloy wheels.

| | |
| --- | --- |
| Model: | Mazda MX-5 RF 2.0 GT Sport Tech |
| Price: | £33,960 |
| Engine: | 2.0-litre 4cyl petrol |
| Power/torque: | 181bhp/205Nm |
| Transmission: | Six-speed manual, rear-wheel drive |
| 0-62mph: | 6.8 seconds |
| Top speed: | 137mph |
| Economy: | 40.9mpg |
| CO2: | 155g/km |
| On sale: | Now |

Next Steps

Source: Read Full Article