Mazda's most powerful CX-5 in this top-spec trim isn't far off £40,000. Is the SUV worth it?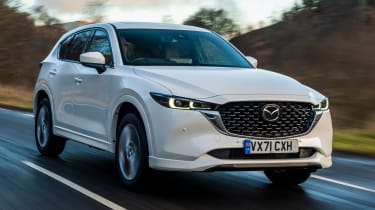 3.5 out of 5
Buy used for less at Buyacar
Verdict
This trim grade gives the CX-5 a great standard spec list befitting its premium-feeling cabin while representing decent value despite the additional cost. However, the 2.5-litre, naturally-aspirated petrol engine it's paired to here feels like the wrong choice for a vehicle like this – you're better off with the 2.2-litre turbodiesel.
Mazda isn't a company that likes to run with the pack. That's why it's developed a whole new range of in-line-six cylinder diesel and petrol engines, while rival manufacturers have spent years downsizing and scaling back investment in new internal combustion engines.
Mazda CX-5 diesel: long-term test review

There's also plenty of evidence of Mazda's leftfield thinking in the current range. Few cars embody this as much as the most powerful version of the CX-5 SUV, which is propelled by a relatively large, 2.5-litre naturally-aspirated four-cylinder unit. Its rivals all use smaller turbocharged units.

As this powertrain is only available with the new, top-of-the-range GT Sport trim, you're looking at a pricey vehicle costing £37,835. It's the second most expensive CX-5, behind the 2.2-litre 'SkyActiv-D' diesel in the same trim and with the automatic gearbox. So, is this fanciest of petrol CX-5s worth the outlay, and is there method in Mazda's apparent madness?

You certainly get plenty of equipment for the money. Building on the already generous Sport spec, GT Sport adds heated and ventilated front seats, heated outer rear seats, a 360-degree parking monitor, an electrically-assisted tailgate, brown Nappa leather and a colour head-up display.

It helps that all of this gear is placed in a cabin that gives some of the more premium manufacturers out there a thing or two to worry about. Build quality is first-rate, as is the choice of materials – there are no cheap-feeling pieces of trim in here.

More reviews

Car group tests

Kia Sportage vs Mazda CX-5 vs SEAT Ateca: 2022 group test review

In-depth reviews

Long-term tests

Mazda CX-5 diesel: long-term test review

Road tests

New 2022 Mazda CX-5 Sport 2.2 diesel review
New Mazda CX-5 automatic 2022 review
New Mazda CX-5 2022 review
New Mazda CX-5 2021 review

Used car tests

Used Mazda CX-5 (Mk1, 2012-2017) review

The design of the dash itself is fairly minimalist, despite Mazda keeping more practical physical controls for things like the climate settings for this facelift model, in contrast to many rivals choosing to move various functions to touchscreens.

The CX-5's updated infotainment setup works out of a 10.25-inch digital instrument cluster, with an almost disarmingly simple layout navigated via a rotary controller. There's little chance of getting lost in a deep succession of sub-menus.

On the outside, the CX-5 has been treated to new front and rear bumpers, plus fresh light clusters at either end of the car. The nip and tuck has smartened up what was already a handsome-looking SUV which looks its best in Soul Red. That's an £820 option, but since the GT Sport trim leaves little left to spec, you might as well.

Along with the additional trim levels and the interior/exterior refresh, Mazda has also made some adjustments to the suspension to improve both handling and road noise. And on the move, the CX-5 quickly establishes itself as a car that pays close attention to what the 'S' in SUV is supposed to stand for.

There is a reasonable degree of body roll, which is to be expected, but even so, the CX-5 changes direction keenly. Understeer can only be found if the car is pushed very hard in corners, with plenty of bite from the front end.

The standout part of the driving experience is the steering – it's a heavier set-up than most, but not excessively so, and feels far more natural and less remote than most cars of this type. The flipside of the CX-5's dynamic focus is a ride that's on the firm side, but there's a sophisticated quality to the damping, with the body settling well after the car negotiates imperfections in the road surface. As far as road noise goes, there is still more than we'd like making it into the cabin, but it's not unacceptably loud.

Unfortunately, this version of the CX-5 isn't as successful in the engine and gearbox department. Although 191bhp sounds like a reasonable output, the CX-5 takes a leisurely 9.1 seconds to complete the 0-62mph sprint and often feels sluggish.

Anyone used to a modern turbocharged engine will feel a little taken aback by how hard the unit needs to be worked to make good progress. The combined 35.3mpg figure is respectable enough given the CX-5's size and weight at least, and we were able to get close to that number, albeit with a test heavily weighted towards motorway driving.

Even a large capacity naturally-aspirated engine like this can't compete with a smaller turbo engine in terms of torque – the 2.0-litre 'TSI' engine in a Skoda Karoq 190 generates 320Nm to the 2.5 CX-5's 255. That particular Karoq is also significantly quicker, covering the 0-62mph dash nearly two seconds faster.

Part of that will be down to the Skoda's slick 'DSG' twin-clutch automatic gearbox. The CX-5's conventional six-speed auto on the other hand offers up slower, less smooth shifts. It also has a habit of holding onto gears for too long, even at modest throttle inputs. Mazda does make some great-feeling manual 'boxes, but you can't spec one with this engine.

While the engine and gearbox combination disappoints, the CX-5's packaging does a fine job of making up for it. It feels spacious inside, both for those in the front and the back. Boot space is strong at 503 litres, and once the rear seats are dropped, a 1,620-litre load space opens up.

We have no complaints about what's going on at the back of the car, but at the other end, the 2.5 isn't a strong choice. Mazda's commitment to naturally-aspirated petrol engines might be commendable, but it works much better in its smaller cars, such as the MX-5 roadster. For the relatively large CX-5, the 2.2-litre turbodiesel engine makes far more sense.

| | |
| --- | --- |
| Model: | Mazda CX-5 2.5 GT Sport |
| Price: | £37,835 |
| Engine: | 2.5-litre 4cyl petrol |
| Power/torque: | 191bhp/255Nm |
| Transmission: | Six-speed automatic, four-wheel drive |
| 0-62mph: | 9.1 seconds |
| Top speed: | 122mph |
| Fuel economy: | 35.3mpg |
| CO2: | 182g/km |

Now click here to read our review on the new Mazda CX-60…

Next Steps

Source: Read Full Article