The company says the sale will help turn Moke into a fully electric global car brand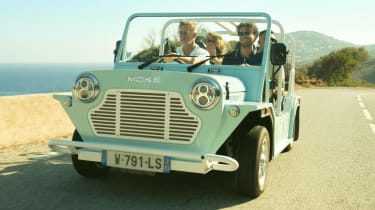 Moke International, the firm behind the iconic Mini Moke, has agreed to sell up to 100 per cent of its shareholdings to EVTG (EV Technology Group). The sale comes as Moke launches itself into the electric car world with a pure-electric version of its Mini Moke.
Moke says the transaction is valued at $51.6 million (roughly £43.2 million) and EVTG will own approximately 65 per cent of MOKE International while maintaining an option to acquire up to 100% of the remaining shares.
MINI Recharged unveiled as official classic EV conversion
CEO of Moke International, Isobel Dando, said "EV Technology Group's in-house expertise, and customer-centric technologies will also be invaluable to us as we continue to develop the Electric MOKE and more pioneering products".
Wouter Witvoet, CEO of EV Technology Group, added "This exciting investment is extremely close to my heart. I first became interested in MOKE International when I tried to rent a MOKE in the South of France – I quickly discovered the joy of driving this vehicle in beautiful locales – but also the commercial opportunity to reimagine MOKE as a global brand."
The new Mini Moke
The new Electric Moke is already in production and available to order from £29,150. Moke says it's a continuation of the 1964 Mini Moke, created by Sir Alec Issigonis – the designer for the original Mini. The Mini Moke gained a cult following after celebrities such as The Beatles and Bridget Bardot were seen driving them in coastal resorts.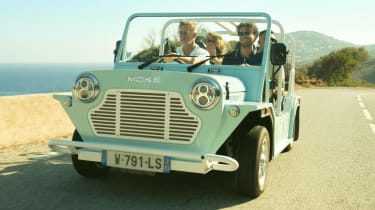 Produced in the UK and reimagined as an EV, the Electric Moke can cover up to 80 miles of range on a single charger (Moke says this is enough for four round trips from Cap-Ferrat to Monaco) and takes four hours to charge from a Type 2 charger.
A synchronous motor offers up 44bhp – or about 10bhp more than the original 848cc A-Series engine in the classic model. The firm says that's enough for a 0–34mph time of 4.5 seconds and a top speed of 50mph.
However, while there's a little more performance, the switch to electric power has made the Moke pile on the pounds. It weighs 800kg thanks to the battery pack, which is almost double the amount of the original petrol model.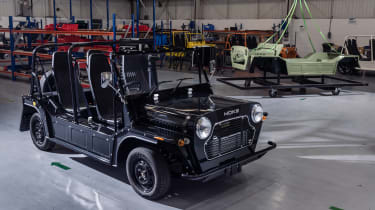 To try and mitigate some of this weight-gain, Moke International has thoroughly reworked the car's bodywork and chassis, swapping some original steel panels for lightweight aluminium replacements. The brakes and suspension have also been improved to cope with the added bulk, and regenerative braking has been added alongside a new power steering system.
The company has added further creature comforts, such as a heated windscreen as standard. Buyers are also invited to customise their cars to their exact taste. There's a selection of unsurprisingly summery paint finishes such as Wave Blue, Sunlight Yellow, Sunset Orange, Scuba Blue and Granite Grey – cabin trim can also be customised too.
Looking to make an investment? Click here for our list of the best British modern classics…
Source: Read Full Article