McLaren denies reports it has been sold to Audi, but leaves door open for further collaboration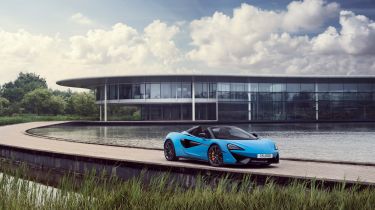 McLaren has said it has not been sold to Audi and has snubbed reports suggesting a sale, confirming that ownership of the McLaren Group has not changed. 
With no official comment from Audi, McLaren's statement reads that stories of a completed sale are "wholly inaccurate." 
New McLaren 720S GT3X 2021 review
"McLaren's technology strategy has always involved ongoing discussions and collaboration with relevant partners and suppliers, including other carmakers," it continues. "However, there has been no change in the ownership structure of the McLaren Group."
The statement quashes rumours surrounding a done deal between the two brands but does not address reports of a potential sale. German industry publication Automobilwoche first reported on Sunday that both Audi and BMW were interested in acquiring McLaren. The latter has since denied the report entirely, while Audi told Reuters that it is open to cooperation opportunities without commenting specifically on McLaren. 
Reports initially suggested that BMW was only interested in McLaren's road car division, McLaren Automotive, with the intention of expanding its portfolio of British-based brands beyond MINI and Rolls-Royce. Audi, on the other hand, was originally said to be mainly interested in McLaren's Formula 1 operations, with reports suggesting that it was poised to acquire the entire McLaren Group.
The reports came after a turbulent period for Woking-based McLaren, which saw its CEO Mike Flewitt step down last month after eight years in charge. 
The company has also struggled to weather the impact of the Covid-19 pandemic. Heavy financial pressure saw McLaren raise £550million in July from investors, including Saudi Arabia's Public Investment Fund. Following this raising of capital, it generated a similar figure via a bond issue, while in April it sold its Woking factory to an American investment group as part of a deal that saw the British firm lease the premises back.
If Audi was to purchase McLaren it would be the second supercar brand under its control after Lamborghini. It would also give the wider VW Group direct access into Formula 1, something which it is thought the four-ringed firm has been considering for some time. 
Porsche, another high-end VW brand with strong motorsport history, has also been considering an F1 entry, although it is believed this would be as a powertrain partner for an existing team rather than as a standalone brand.
Check out the latest on McLaren's plans to enter Extreme E…
Source: Read Full Article