Editor-in-chief Steve Fowler thinks Nio is a brand that could really shake up the premium elite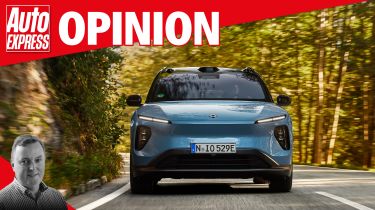 I came away from the Shanghai motor show in April with one brand in particular sticking in my mind: Nio. This Chinese start-up seemed to blend the best of east and west, taking clear learnings from those entering the electric car space before it, especially Tesla.
Like the American firm, Nio has a young, charismatic leader – William Li – whom the brand's fans worship and whoop at. In spite of being a much newer company, it already has a bigger range of cars than Tesla. But software is at its heart, while technology – including self-driving systems – is also very much to the fore.
New Nio EL6 review
The Chinese company, too, has a unique answer to the charging barriers every other car maker faces. Where Tesla has its Supercharging network, Nio has a host of battery-swap stations – 1,700 of them in its Chinese home market, while they're spreading across Europe and coming to the UK as of next year, too.
But where Tesla exists alongside its loyal fans, Nio welcomes them into the fold. The way it has curated the community that it has around it – be that with owners or fans – is hugely impressive. Its motor show stand in Shanghai was staffed by those very people. And as Nio design chief Kris Tomasson told me this week, "Our priorities are shaped by our users' behaviour. And owners can ask Nomi [Nio's innovative in-car personal assistant] to send us feedback – and we always listen."
The result is a car company that thinks differently and, in the EL6, has produced a model that's certainly better built than a Tesla and drives better, too.
Only last week I was talking to someone from one of the big three German premium brands about the future of the UK market. They were asking me about Polestar and saying how much of a threat it is already becoming, especially with the 3 and 4 around the corner. I told them to look not only at Polestar, but also beyond. For me, Nio is a brand that could really shake up the premium elite.
Do you agree with Steve? Let us know your thoughts in the comments section…
Source: Read Full Article