UK commercial boss Guy Pigounakis has been with MG through thick and thin. He tells us about the brand's strong growth and the cars that are driving it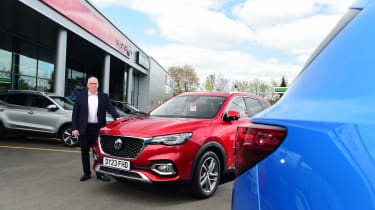 MG is on the rise. There are exciting plans for the future, while the MGB demonstrates the great history the brand has to leverage. But what about the here and now? What does MG mean to UK buyers currently in the market, and how well does the current range cater for consumers' needs?
To find out, we went to Paul Rigby MG in Redditch, Worcs – part of MG's growing dealer network – to meet up with perhaps the person best qualified to take us through what's going on at the firm currently and each of the cars in the current line-up, bar the ageing MG3.
MG Cyberster vs MGB: reimagining the roadster
MG commercial director Guy Pigounakis' current stint at the company in its modern incarnation only goes back to 2020, but he has a long history with its predecessor MG Rover, having been in charge of commercial operations from the mid-nineties right up to the end, describing himself as one of the last people out of the door following the collapse of MG Rover in 2005.
Things are looking much more positive for the firm in 2023. MG surpassed its total 2021 sales in the first five months of 2022, contributing to a year-end figure of around 51,000. The momentum continued this year, with 20,679 registrations in Q1 of 2023 representing a near-50-per cent increase on the same period last year.
The MG4, an award-winning electric vehicle that offers pretty much unbeatable value, has significantly helped drive that growth, despite competition from other Chinese EVs. The key, Pigounakis says, is those two letters and the octagon surrounding them.
The MG brand has 100 years of history behind it, giving the company a crucial edge against the likes of China's BYD and Ora, which are only just beginning to establish themselves in the UK. It also helps when it comes to better-known rivals, according to Pigounakis.
"I think it gives us a huge head start on the competition, and that's just not Chinese car companies; I think it's almost any competitor," he says, adding, "There's a huge amount of affection for the MG brand.
"Amongst youngsters, people don't really know what it stands for, but there's an awareness of it amongst slightly older people and especially those around my age. Everybody knows somebody that had an MG or [you] probably had one yourself."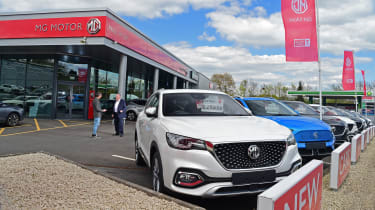 There is, of course, a disconnect between the MG of the past and the MG of today. After MG Rover's collapse in 2005, Nanjing Automobile (which later merged with SAIC) bought the MG brand and the plant in Longbridge, launching MG Motor as a new entity in 2006. But Pigounakis is convinced that for most people, this simply doesn't matter, if many punters are aware at all.
"I don't think people care," he says. "I think what matters to people is that the brand that they remember is reflected in the brand that they're seeing today, in terms of values, in terms of the way they're looked after, and of course, in terms of the products that are sold."
It further helps that the branding is plastered all over MG dealers, of which there are now more than 150 in the UK. "I don't think we'd have been as successful as we are if we didn't have facilities like this in high-profile locations," Pigounakis says. Establishing a large, traditional dealer network doesn't sound hugely innovative for such a disruptive brand, but Pigounakis believes that it's still the best way to sell cars.
"The debate going on about stores and online sales and what have you is a really, really interesting one at the moment, but nobody sells any significant volume of cars online," he says. "People still want to come in and test drive them and have a look around the car as well."
He also claims the growth in the dealer network in the past two and a half years is "one of the most important steps we've made," because "The challenge for any new brand coming into the marketplace is about awareness, it's about accessibility, and I think the traditional dealer model gives us both those ticks of the box."
While much of MG's footprint in the UK is made up of dealers, there are also two key facilities in the country that play a significant role: the company's design studio in Marylebone, London, and the engineering site in Longbridge in the West Midlands. For the "Britishness" of the brand, Pigounakis feels it's "important that we do have some genuine links to the UK".
And they are genuine: it may only be a small team at Longbridge, but it's likely their suspension fine-tuning for UK roads helped make the MG4 drive so well here, and as for the design studio, Pigounakis notes it's "not for show". It was the London studio which pushed so hard for the creation of the Cyberster sports car.
All of these factors, plus the value proposition in each car – which we'll be covering shortly – have fuelled incredible growth for the marque, but there is a limit to that rapid expansion. "That will slow down now because we achieved the 66 per cent last year, and the previous year it was 66 cent growth, bizarrely, over the year before that," Pigounakis explains.
"I keep trying to explain to my boss that if we carry on going by 66 per cent, we'll be the only people selling cars in the UK in four years' time!" he jokes. By that point, though, MG is sure to be one of the country's biggest automotive brands, which ought to be worrying the company's rivals.
MG4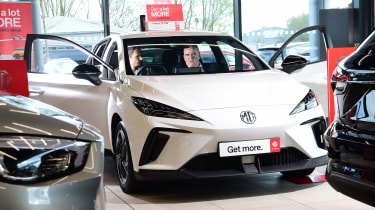 MG's first ground-up-developed EV has been a smash hit. Along with very positive press reviews and being named our sister title DrivingElectric's Car of the Year, the MG4 is also proving popular with buyers: MG is currently sitting on a back order of around 11,500 cars.
Prices may have risen a little since the MG4 was launched, but in terms of EV bang for your buck, it's still unbeatable, at £26,995. And it's not as though the entry-level SE version that sum secures is basic, because the 51kWh battery in that model gives a WLTP range that is comfortably in excess of 200 miles.
Pigounakis reckons it's great value for money not just for an EV, but as a family car in general, a message he thinks MG needs to be pushing harder. "This is arguably the first genuine quality electric car that a family could buy instead of the petrol equivalent for the same price, which I think is something that we haven't quite managed to communicate effectively yet," he says.
MG5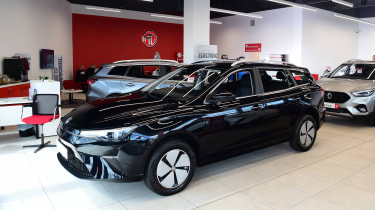 The 5 stands out in MG's range for not having any obvious rivals. As it stands, for electric estate cars, there's nothing between the MG5 and the entry-level Porsche Taycan, which costs nearly £50,000 more. A Peugeot e-308 SW and a related Vauxhall Astra Sports Tourer Electric are on the way, but the MG5's £30,995 starting price will still significantly undercut them both.
There's a reason the MG5 is in a largely uncontested space, though: an electric estate is a niche proposition, which is something Pigounakis confirms. "MG5 has done well, but it's never been a huge volume vehicle," he says. "It's split right down the middle of the fleet customers and corporate customers."
It's a small part of the MG puzzle, then (figuratively and literally – it is quite compact for a wagon), but is still an important one for the company. As Pigounakis puts it: "MG5 is doing exactly what we wanted it to do, very quietly in the background."
MG HS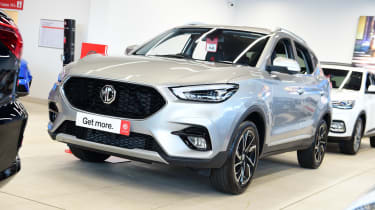 MG's C-SUV segment contender grabbed headlines this year when it rocketed to the top of the UK's best-sellers list for January. Pigounakis says this "probably surprised us as much as it did most of the competition!", but there was one quite important factor on the side of the HS: availability. When waiting times for many cars stretch into months or even years, the much healthier supply of this SUV worked in its favour.
That's not to be disingenuous to the HS, because there's more to its popularity than the fact you can get behind the wheel of one quickly. Pigounakis refers to the HS as "probably the best value-for-money car we build in a range which is well known for its value for money". And soon it'll have a little more style on its side, with a facelift bringing welcome character to what was previously a rather anonymous-looking vehicle.
The HS also has the distinction of being the only car in MG's range available with a plug-in hybrid powertrain.
MG ZS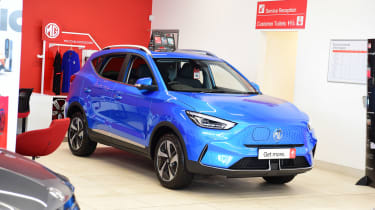 The ZS B-segment SUV is the only MG that's available with either a combustion or fully electric powertrain. Launched in 2016, the compact SUV played a key role in the marque's emergence as a major player in the UK car market. It was, Pigounakis says, "the car that maybe put us on the general public's map".
The EV version of the ZS further fuelled demand for the model, but it proved too popular for its own good and supply hasn't been able to keep up. "We've been quoting a year delivery for those cars until very, very recently, Pigounakis admits. "We've almost stopped selling them." But this will soon change, with "free supply" from the end of May, the MG boss tells us.
The petrol version remains popular, again because it offers great value for money. It starts at just £17,280, which these days won't even go that far on a supermini purchase, let alone an SUV. "Last week alone we took 1,500 orders for the ZS petrol car," Pigounakis says.
Click here for all the latest on the new MG Cyberster electric roadster…
Source: Read Full Article