The SUV has clocked 2000 km in the 1.5 months of ownership.
BHPian Moto_Bear recently shared this with other enthusiasts.
Hey Guys. So a post is long due from my side since April.
Anyways, got delivery of my XUV 7OO AX7L Diesel MT [KRATOS] on the 14th of April. The day went smooth and without any hassle as I had already done 90% of the paperwork prior to the delivery. The staff was very courteous and the S.A didn't push me for anything that includes accessories too. They were kind to give us basic mats but the second key and the sequential indicators were left out for some other day as per the consent letter that was handed to us.
The total we had to pay was:
Ex-Showroom – ₹19,99,000
Insurance – ₹65,000
Road Tax – ₹1,84,000
TDS – ₹19,990
So, the total was around ₹22,85,000 (I'm missing some expenses)
Since it was Baisakhi that day, the staff had only come for the deliveries and there were only 2 to be had, one ours and a Thar. So by 3 pm [as per our Mahurat(auspicious time)] we were free and driving back home on the new steed, Kratos. Yeah, well, I wasn't; as somebody had to drive our other car back home.
The next stop was our community temple where a pooja was arranged by my dad.
While the pooja was going on, Lord Indra(God of Rain and thunder) decided to pay us a visit with all his might; maybe he too, knew who Kratos was, and so the afternoon turned into an evening of fritters and tea.
Later that night, the car was inspected and tested 'OK' for the Sub'woof'er by our in-house ex-paw't.
Before you read further, I think a little background on the naming is necessary. Well, I named him Kratos. Kratos is the protagonist in the God of War games who used to be this angry, vengeful demi-god who in his need for vengeance, killed the entire pantheon of Greek Gods. In the newer series, he becomes a father, shifts to stoicism and becomes a responsible yet even more powerful man/God.
Coming from XUV5OO which was in a lot of ways comparable to the earlier Kratos in how loud the engine used to be, the vengeance with rust and the overall aggressive look of the car, XUV7OO was like the older Kratos, a responsible, wiser yet much more powerful person. Hence, no other name suited this steed better than, KRATOS.
After a few days, the S.A called regarding the Registration certificate and the affixation of number plates. I had applied for a vanity number prior to the delivery and the registration had been finally completed by the dealer. So, it was another reason for a visit to the dealership to get Kratos, his registration papers. Clicked some pictures of him, when I stopped to get some lunch. Also, the mileage for the drive.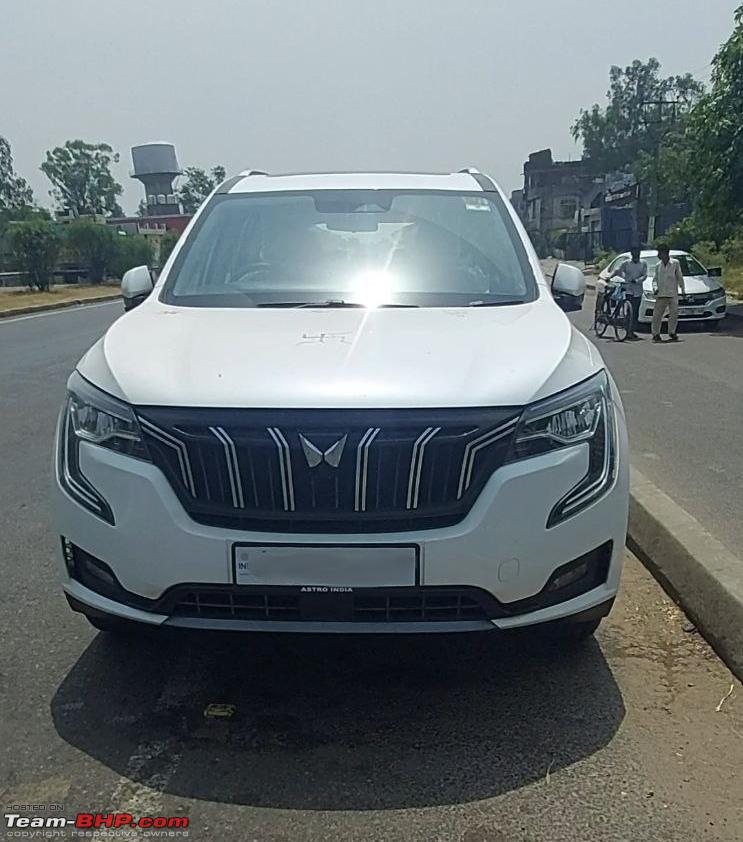 As of now, the first service has been done, which was just routine checkups. I haven't been able to go on any trips or long drives and yet, Kratos has clocked almost 2k km in 1.5 months of driving him during commutes. And I have to tell you this, The MT is a blast to drive. I mean, compared to the Aisin gearbox (no offence to the AT owners), this MT just wants to wheelspin in even the 4th gear (gives me the Duke 1290R vibes) and that has got me impressed. It's light and you hardly have to come down to even the 2nd gear even in creeping traffic. Mahindra has scored an ace in my book for this MT.
Additionally, I have been planning a separate ownership thread for those who have or are planning to buy a Manual as the information on MT is too little compared to the ATs. So, I hope I'll be of any help to the potential or existing owners. So will follow up with a detailed post/thread on the MT ownership.
Check out BHPian comments for more insights and information.
Source: Read Full Article