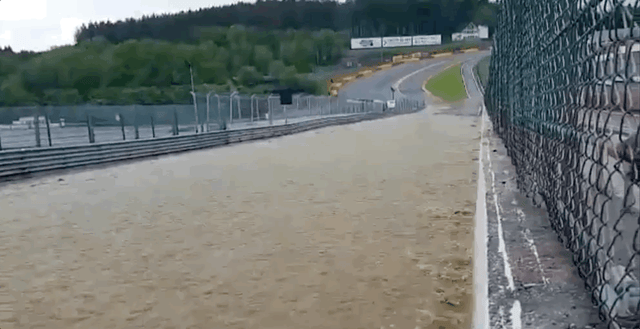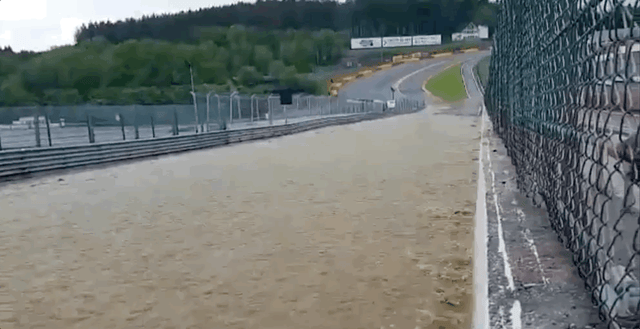 The legendary Circuit de Spa-Francorchamps is known for speed, elevation change, and an eternal threat of rain. The first two factors make the third an even larger problem than it is anywhere else. Truly torrential rain can even cause severe flooding, rendering portions of the track undrivable. During Friday's testing day for a variety of regional sports car races, flooding reached about as severe a level as it could.
The Great river at Eau Rouge in Spa pic.twitter.com/r0EiYzCkTC
As this video from Lotus Cup Europe team ES Motorsport shows, flash floods briefly overwhelmed the entire back straight of the track, creating something like a pop-up river feeding directly into the Eau Rouge and Radillon corner complex and producing a massive puddle that would make navigating the famous corner impossible. As the Eau Rouge corner (directly translated as "Red Water") itself is named after a nearby stream, the river-like conditions are somewhat fitting.
Unfortunately we have just been told the weekend has been cancelled in Spa gutted but the track and tunnels are falling apart. pic.twitter.com/6OKjQTIzoG
Another video shows the source of the flood, a massive swell of water on one side of the grandstands that surround the track's most famous straightaway. The water came from a heavy thunderstorm in the area, which created flash flood conditions that brought water through a path onto the track, where it flowed down to the lowest nearby point and pooled. The Eau Rouge corner (directly translated as "Red Water") is named after a nearby stream at the base of the valley the corner resides in.
The rains canceled Friday's on-track time at Spa, but the bigger concern is about 50 miles east. The 24 Hours of Nurburgring begins tomorrow, and, with rain in the forecast, the torrential downpour at the nearby Spa-Francorchamps may be a harbinger of a long, wet, difficult weekend of racing.
From: Road & Track
Source: Read Full Article