Genesis, the Korean premium car brand, is set to roll out more dealer and customer service locations in the UK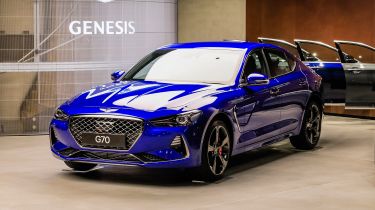 Genesis launched in the UK in mid 2021 and hasn't been backward in coming forward with a rapidly expanding model range. Now the premium car brand from Hyundai is set to grow its network of dealers as it aims to bring its brand offering to more customers across the country.
Genesis kicked off its presence in the UK and Europe by launching the G80 executive saloon and GV80 large SUV less than two years ago. Today, buyers have the choice of these cars plus the G70 and G70 Shooting Brake compact executive models, the GV70 mid-size SUV and the GV60 electric hatchback.
New Genesis Electrified G80 2022 review
The brand has focused on customer service as an avenue to create a point of difference between itself and the rest of the premium car brand crop. It launched with a select group of 'Genesis Studios' in London and Edinburgh, which are described as "unpressurised environments, more like contemporary galleries than car dealerships". Now it's looking to cast the net wider, moving into more of the UK's major cities and regions by partnering with dealers.
The brand insists that the commitment to customer service will remain and these new dealer partners will be tasked with maintaining the high quality buying and ownership experience it has aimed to provide through its existing Genesis Studios and online services. Sales, test drives and aftersales service facilities will become more widely available to UK customers and the hope is that Genesis will become more routinely considered as an option for premium car buyers alongside the likes of Audi, BMW, Mercedes, Lexus, Jaguar and the rest, as a result. Details on the exact whereabouts of the new Genesis locations have yet to be revealed.
The managing director of Genesis Motor Europe, Lawrence Hamilton commented: "In just two years, Genesis has successfully established itself in Europe and the response from consumers is extremely positive. We achieved a 563 per cent increase in customer deliveries in 2022 and, with such a desirable range including three all electric cars, demand continues to grow.
"By expanding with specialist partners, we can take our award-winning cars to even more customers. Exceptional customer service and hospitality remains at the core of Genesis, and we are looking forward to welcoming more owners to our brand." 
Click here for our list of the best executive cars on sale right now…
Source: Read Full Article