The engine is extremely refined. While idling, the SUV is so quiet that you can barely tell whether it is fired up or not.
BHPian ravishankr89 recently shared this with other enthusiasts.
Hi fellow petrolheads.
I got my Thar P MT HT Grey 10 days ago. It's my only car and I plan to keep it like that. Will try my best to give you guys an honest review as there is very little info on the manual petrol version of the Thar online. I have done only 1000 kms so far and just got my complimentary service done today.
I got some OEM accessories fitted:
Big Deflector – Rs.1760
Rear Camera kit – Rs.4100
Front Parking sensors – Rs.3250
SS scuff plate – Rs.630
Front & Rear Mud flaps – Rs.865
Underbody anti-rust black – Rs.4425
I drove straight to an after-market accessories shop in Goa. Got the below accessories fitted:
Nappa tan seat covers – Rs.13500
Front & Rear Armrests from Bimbra – Rs.19000
Half roof carrier from Bimbra – Rs.14500
Leg Padding from Bimbra – Rs.3400
4D floor mats – Rs.6800
Door Rain Visor – Rs.1600
A day after I got the fittings done, I drove Goa to Bombay. It was a 600km (approx) drive. I was doing about 80-100 kmph on the speedo. It took me about 9.5hrs with two stops.
Initial impressions
Looks & exteriors
This is Thar's strong point. It's a head-turner. Everybody looks in admiration. Most vehicles on the road just let you go looking at the sheer size of the vehicle. I am going for a more rugged kind of look for my Thar and have many mods planned in the near future. The grille is a bit of a let down so plan to change it soon. I love the look with the roof carrier on it. Adds to its raw nature.
I got the MRF Wanderer tyres on my vehicle which look much better than the Ceat ones in my opinion. The ugly blue soap coating on the white writing is hard to remove and takes a bit of work. It took me about 4-5hrs to get it off. Once it comes off, the white writing looks very sporty. Personally, I wish the blue covering would come off easily. Mine is a 2022 August model so my bumpers are fully black unlike the older one with the grey garnish.
Engine & manual gearbox
The petrol engine is deadly. The power is superb. The car reacts the way you expect it to. It moves when you want it to thanks to the turbo. 150 bhp with 300 Nm of torque makes this car quite agile and powerful. It never lets you down. Gear shifting is easy though a bit on the harder side. The clutch is super soft and feels like a clutch of a hatchback. On idling the engine is so so quiet, you can barely tell if the car is on. The engine is that refined. In the cabin, the engine noise is negligible.
On the FE aspect, I tested it on the 600kms drive from Goa to Bombay. On the highway, the AFE showed 10.2. I used cruise control on 90kmph a lot and was mostly between 80-100kmph. The first 250 off kms were a lot of ghats and bad roads so my mileage then was around 9.7 and then on the highway it rose to 10.2. Currently, I am driving it in Bombay traffic and it's dropped to 9.5. I will be the happiest if my mileage in the city touches 10. Since my usage is limited, I didn't go for the diesel. My car will be parked more than used so petrol made sense and FE won't matter that much in the long run.
I love the power on the petrol manual Thar and I have always preferred a manual gearbox as it feels more in control for me. It's a lot more fun to drive a manual and somehow the manual feels right for an SUV like Thar which is a proper driver's car. It's all heart and that should be enjoyed through a manual gearbox.
Interiors & features
All-black interiors are my favorite. Especially on a car like the Thar. The plastic quality isn't bad. The overall cabin does look modern yet simplistic. I decided to get Tan and black seat covers to make it look sportier.
Noticed a few things that I haven't read about during my Thar research which I thought deserved a mention.
When I engage the reverse gear, the volume of the media player reduces so you can focus better. I love this touch.
Front parking sensors always show the distance to the obstruction but the beeping audio can be turned on/off when required. Love this too.
My 2022 model has the dummy keys below the infotainment all used up, unlike the older version. The hill descent control, traction control used to be on the right side of the steering before. It's now been moved to the left side on the dummy switches which is a better place. Surprisingly, I have not seen this on any other new 2022 Thars at the showroom during the delivery. Happy nevertheless.
I've got a new feature on my vehicle which is an auto start/stop button. So the car goes off when it comes to a standstill and I release the clutch. As soon as I press the clutch again it automatically comes on again. I'm not sure how much fuel this will save but it's a nice feature to have in a manual car. The infotainment system doesn't go off when the engine goes off and on. I really like that. The AC does go off for a split second. Don't mind that.
TPMS unit of measurement is shown in kpa unit by default but it can be changed to psi in the settings.
The new 2022 model loses out on two things. I am unhappy about losing the lumbar support knobs. I feel like it would have helped a lot during long drives considering the car lacks thigh support. The seats are not deep enough for a tall guy like me (I'm 6.2). It also loses the 2nd USB port in the front. It didn't bother me much because of my armrest which I had put later and had 4 more so it's fine for me.
The steering has to be turned more than other vehicles you will be used to and the turning radius will take some getting used to. The seating position is so high and commanding that the car feels much bigger than it actually is. While this is great, it took me some time to understand the size and the place it needs to squeeze in.
Rearview through the mirror. You can only see the roof of most cars as the Thar is much higher and the mounted spare wheel covers a lot. I mostly use the side mirrors while driving.
I noticed fogging on the outside of all windows. I have applied an anti-fog spray on the inside windows. The windshield did fog up quite a bit when it was raining. Need to crack how to use it in a way where the temp balance is good and the fogging can reduce during the monsoon.
Headspace and Leg space seem ample for me and someone sitting behind me as well. The leg padding from Bimbra on the side of the center console is a must in my opinion. Mahindra should have padded this as the footwell is a bit cramped so drivers will definitely rest their calf/knees on the side of the center console.
Noise levels and tire sounds creeping into the cabin are pretty low. Doesn't bother me at all. The hard top is fine. No leakages. Just a small tik-tik sound of something being loose was there on the front left side but that got fixed at the 1st service.
The petrol tank lid is manual and needs a key. I find this part annoying. Maybe I'll get used to it. Time will tell.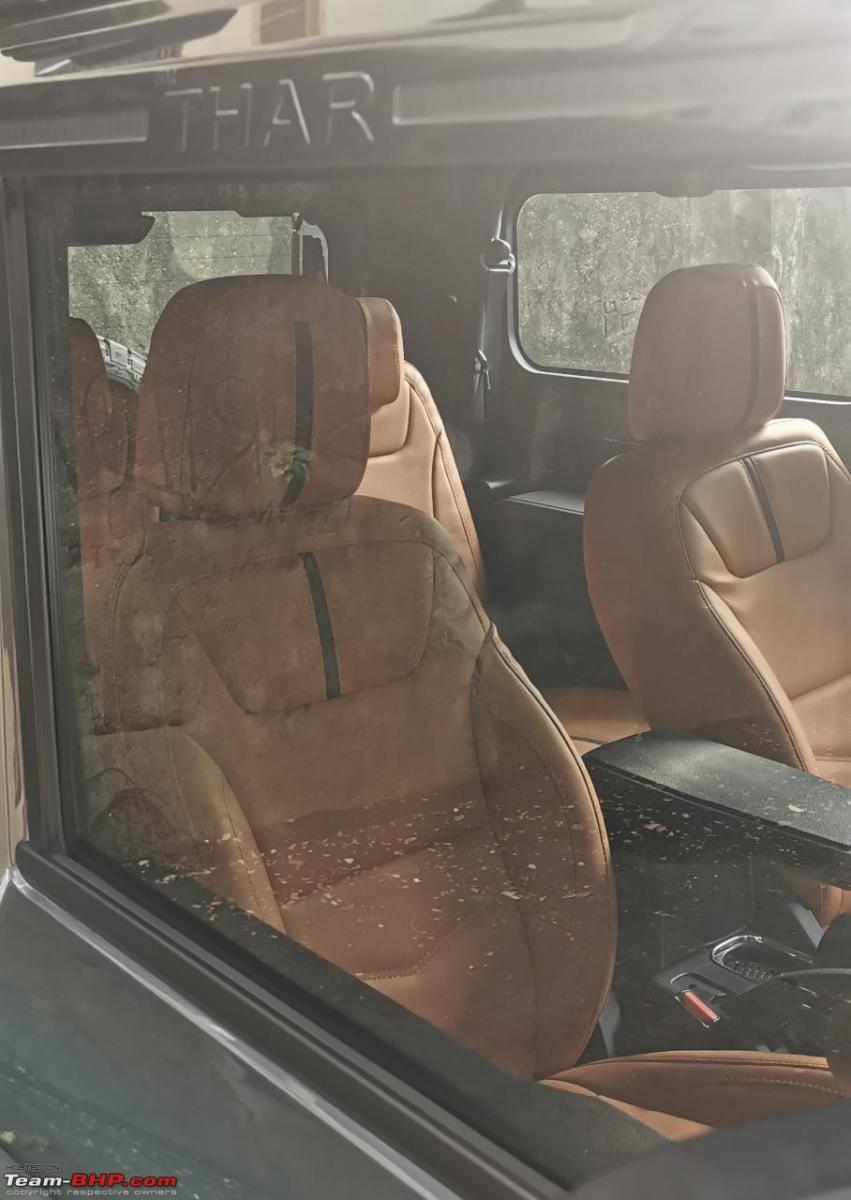 Infotainment
The infotainment system has a lot of features. People complain about the car not having many features but I have moved from a Swift to the Thar so I feel the feature list is long and more than sufficient for me. Like they say, what you don't know about cannot hurt you. True for me.
What I dislike is the fact that the infotainment always starts on the radio mode and sometimes the volume is at zero too. It's a bit irritating and the volume level is inconsistent. Wish I could decide the mode in which it should start. The other issue is that the Bluetooth doesn't always connect. Sometimes it doesn't connect until the key is removed and put back in. I noticed that it's happening a lot lesser than it did initially. I also would have liked to rearrange the icons on the home menu to my preference. Navigation should have been on the first page itself but you have to scroll to get it.
Handling
This is where I feel Mahindra could have done better. Body roll is noticeable. Keeping in mind that it is an off-roader, I feel the on-road manners could have been better and not so bouncy. Turning at higher speeds doesn't give me confidence from a stability point of view. Speed-wise, I felt quite comfortable till 110kmph. Honestly, I haven't pushed it beyond 110 yet or done any heavy braking as such to judge better. Normal highway braking, I didn't find anything off. Wish the suspension was better tuned to give the driver that confidence on the highway because the reality is that even to get to the off-roading places, one has to do quite a bit of highway driving usually.
Mods planned & advice needed
I plan on adding some Nappa tan accenting on the two doors so I can rest my hand on the doors comfortably and the armrests too so they're softer to feel.
Front grille – A seven-slot matte black grille from Bimbra (model U with side flaps to cover the gap). Is FRP better or ABS? I tried to find out online but didn't get a clear answer. Bimbra has an FRP one that they claim is better than ABS because ABS will break soon.
The AC vents to the AMG-style vents. They just look and feel much better. Not a fan of the lights in it. I believe it can be switched off.
Bonnet shocker. The bonnet is super heavy and the shocker might make it easier and safer to operate.
Grab handles from Bimbra. It will definitely make ingress and egress easier. Not sure if I should do it for the driver's side too. What do you guys think? This involves drilling into the A-pillar so I'm a bit skeptical.
I generally hate chrome. I plan on changing all the chrome badges to matte black.
Radiator and Fuel tank protector. Is steel ok to put or does it have to be aluminium? I was leaning towards steel as it is considerably cheaper.
How important is the Stepney lock? Should it be put on priority as I'm hearing about the spare wheels being stolen or can it wait? I lived in a gated community but the security is not the strongest at night but never heard of any robberies yet.
Overall, so far I am enjoying this beast of a machine and look forward to creating many wonderful memories with it. If you guys have any advice for me with regard to the Thar maintenance, please do let me know.
Check out BHPian comments for more insights and information.
Source: Read Full Article