The Chinese may yet falter: quicker, more efficient production could see prices of European electric cars fall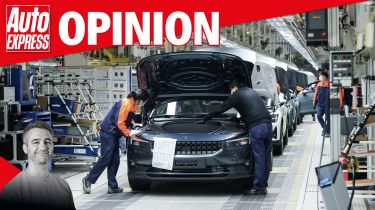 Citroen is claiming the new e-C3 supermini will be 25 per cent quicker to build than its legacy small cars. This alone has the potential to cut costs and boost profitability almost overnight – and could signal the dawn of a new wave of affordable EVs.
Manufacturers have been sharing tech for decades. Perhaps the most famous example is the Volkswagen Group's MQB platform, which underpinned everything from the sleek Audi TT to the family-friendly Skoda Kodiaq – plus lots more in between. Citroen's Stellantis parent company is no stranger to the concept, either, with models of all shapes and sizes sitting on common architecture.
But the new cost-effective Smart Car Platform could be a true game changer. If Citroen's calculations are correct, and it stays true to its initial pricing structure, the e-C3 will be one of the very cheapest electric cars on sale in Britain. More affordable even than the throng of Chinese newcomers – including the excellent MG4 and BYD Dolphin.
Falling rapid charger prices put EVs in the clear vs petrol in the car running costs race
Consumers have long moaned about a lack of price parity when it comes to EV vs ICE, but Citroen's new manufacturing techniques could well be the flickering light at the end of a very long tunnel. This is merely the beginning, too; Stellantis has already confirmed the Smart Platform will underpin the upcoming C3 Aircross – and we'll likely see it form the basis for countless other value-focused models in the not-too-distant future.
It is, in effect, a licence to print money. If the corporate giant can get the dynamics right – we'll find out in the spring whether the e-C3 is as cheerful as it is cheap – then there's nothing stopping them fitting a dinky, retro-inspired body to the versatile chassis and adding a Fiat badge to the nose. Hey presto: you've got the next-generation Fiat Panda, with a profit margin even the hardiest bank managers would gawp at.
So here we are. As long as there's substance to go with the e-C3's style, and the maker's claims of reduced complexity ring true, this could be the first in a lengthy line of desirable, affordable, European-built EVs.
Can't wait for a bargain EV? These are the cheapest electric cars on sale right now… 
Source: Read Full Article