The M340i is like a horse whose reins are literally in your hands. And its not any horse. It's a thoroughbred. A thoroughbred that is trained immaculately to respond in proportion to the tug on the reins.
BHPian mrugu recently shared this with other enthusiasts.
Background and buying experience:
This is my first detailed review on here. I have had some posts and given as well as received good advice. So it was high time I contributed beyond a few posts here and there!
My love for cars dates back almost 15 years now. Brief history of cars I have owned so that there is some context starting with my first car.
Honda Civic, Toyota Prius, Volkswagen GTI, Skoda Fabia 1.6, Nissan Sunny, Honda City, BMW X1, BMW 330i GT MSport.
I had posted about wanting to upgrade and my choices in this thread.
The decision making is also covered in the same thread.
Eventually, as I stated on the post, I went ahead with a M340i. Having owned and driven two BMWs, I think love for the ultimate driving machine remains. AMG tried but could not lure me away. I also got extremely lucky because I managed to find one in stock with a dealer! Further luck was that it was Tanzanite Blue Jahre Edition – my first preference over the stock car or a Davit Grey Jahre.
Being a stock car also allowed some price negotiation on the M340i! Booked the car in the first week of November. Booking to delivery happened within 3 weeks since I wanted a BH registration and there was a loan to be processed which took way longer with HDFC than it does with other banks.
Eventually, Bavaria Motors in Pune had the car ready on Nov 25. I picked it up on Nov 26 morning after taking an early flight out from Bangalore to Pune. The delivery experience was smooth – everything was as expected. My previous 330i GT MSport was also from Bavaria which helped with both the negotiation and the overall process. I would strongly recommend Bavaria Motors – also given Maharashtra and Gujarat are doing BH registrations, it makes total sense to go buy a car from there if you qualify for BH. As a side note, the tax I paid was about 2.2% with a BH registration, Sweetened the deal a hell lot compared to paying nearly 20% if I would have gone for KA registration!
Initial Impressions and the review:
On Saturday, I was only driving around in Pune along with my cousin at whose place I was staying. Before coming to driveability and the interesting parts, lets get basics out of the way:
Exterior:
The Jahre edition has a few sporty aspects compared to the normal. The all black grill, black mirrors, piano black finish on the interior. In general, there is a lot less chrome in the car. Pretty much nothing on the outside. Personally I love the all black sporty look (My other car for daily commuting is a Nexon EV Dark Edition – again all black!). Some pics are included. Note that these are not professionally taken pics. I wanted to give readers a sense of how the car would look if you came across it in a general scenario. Hence more real world pics from parking lots etc.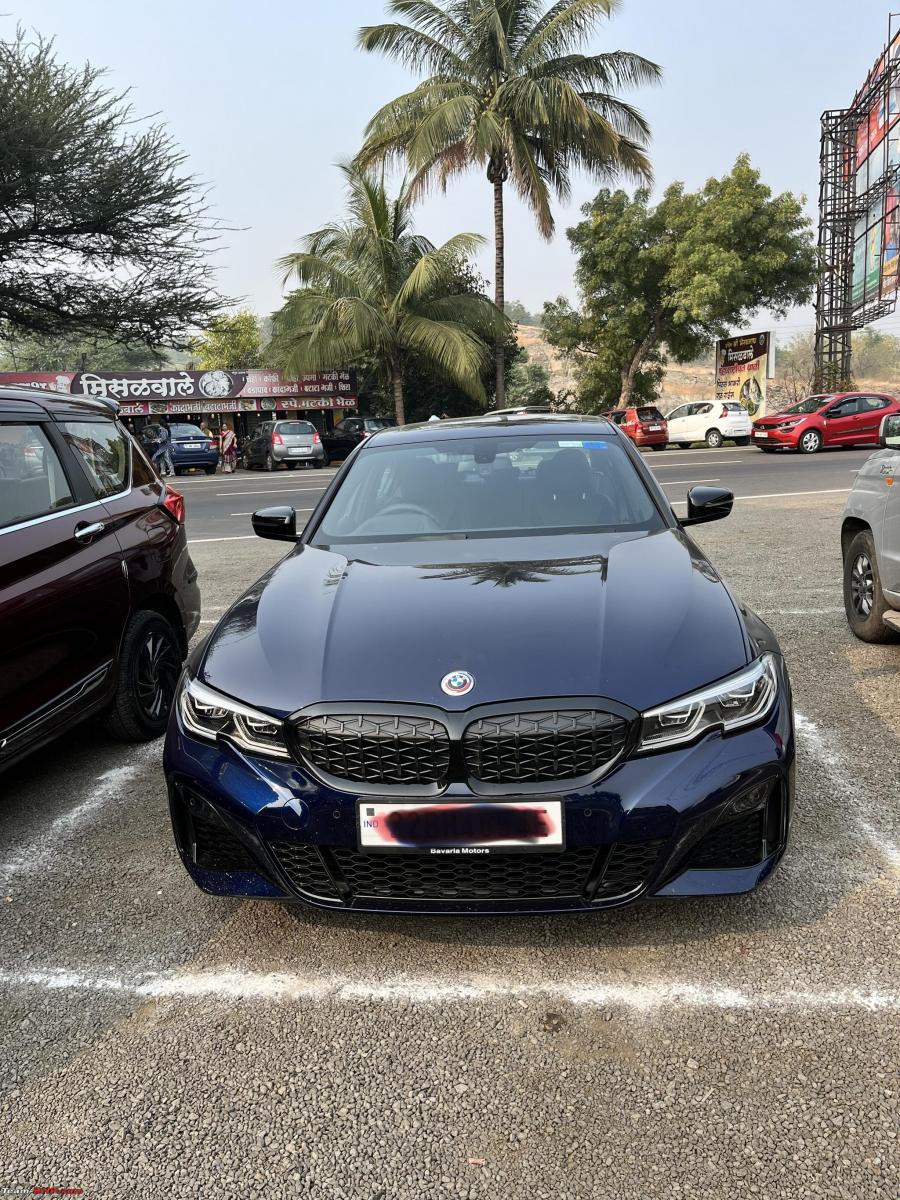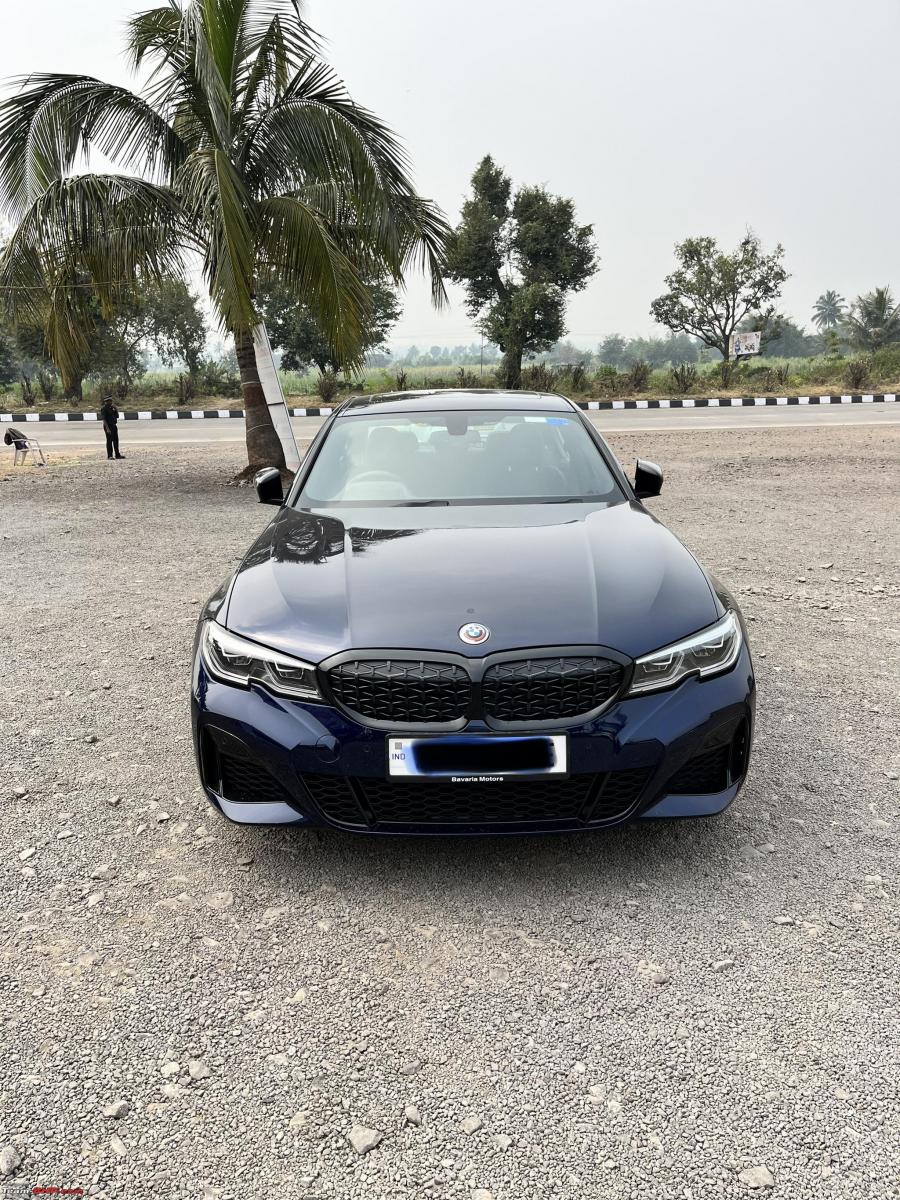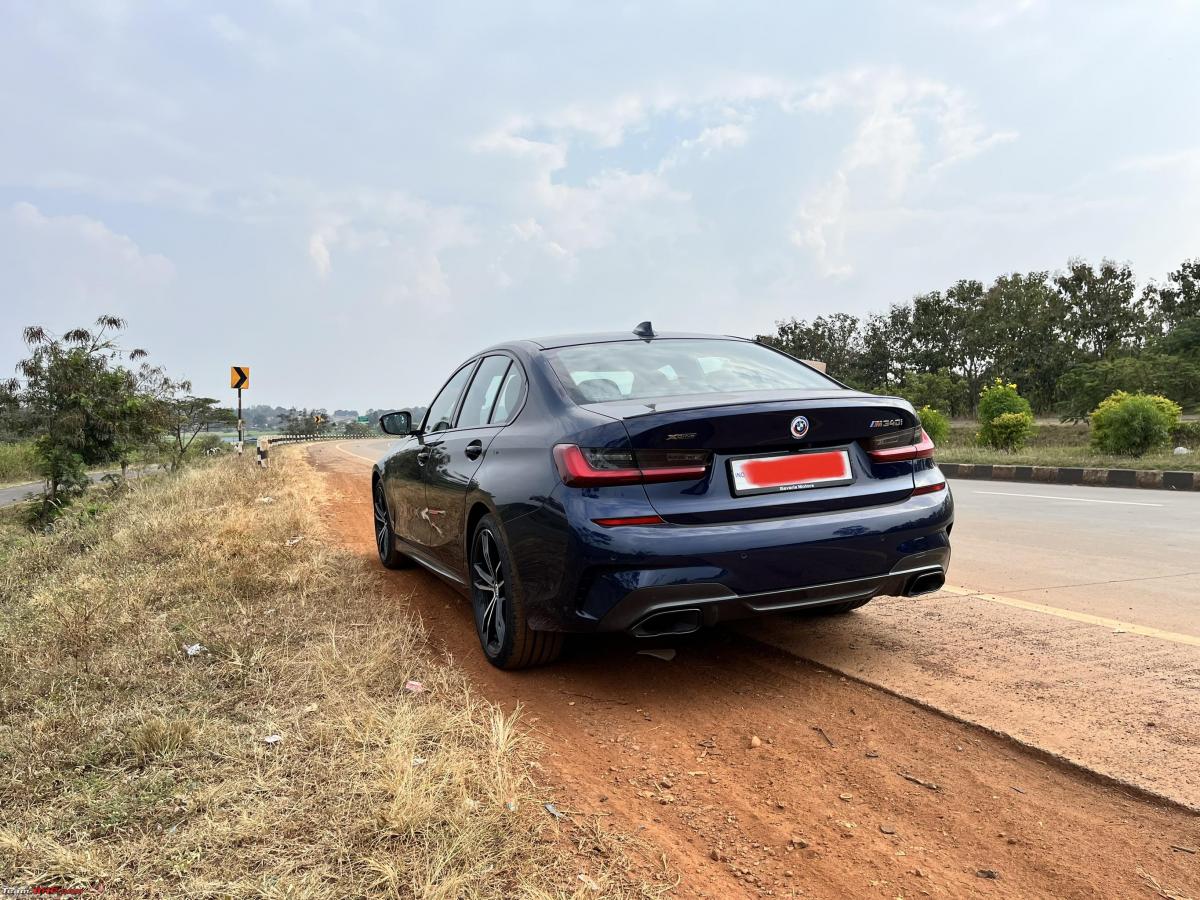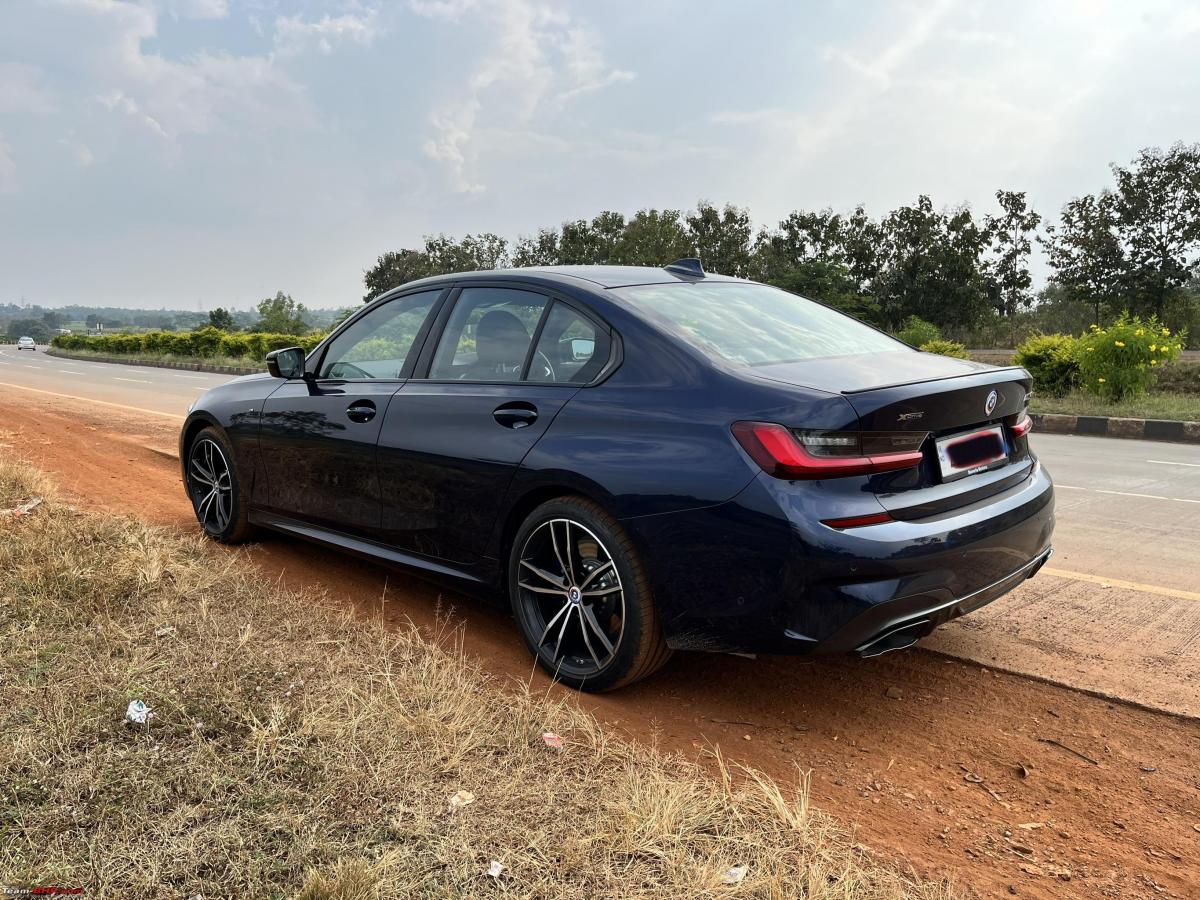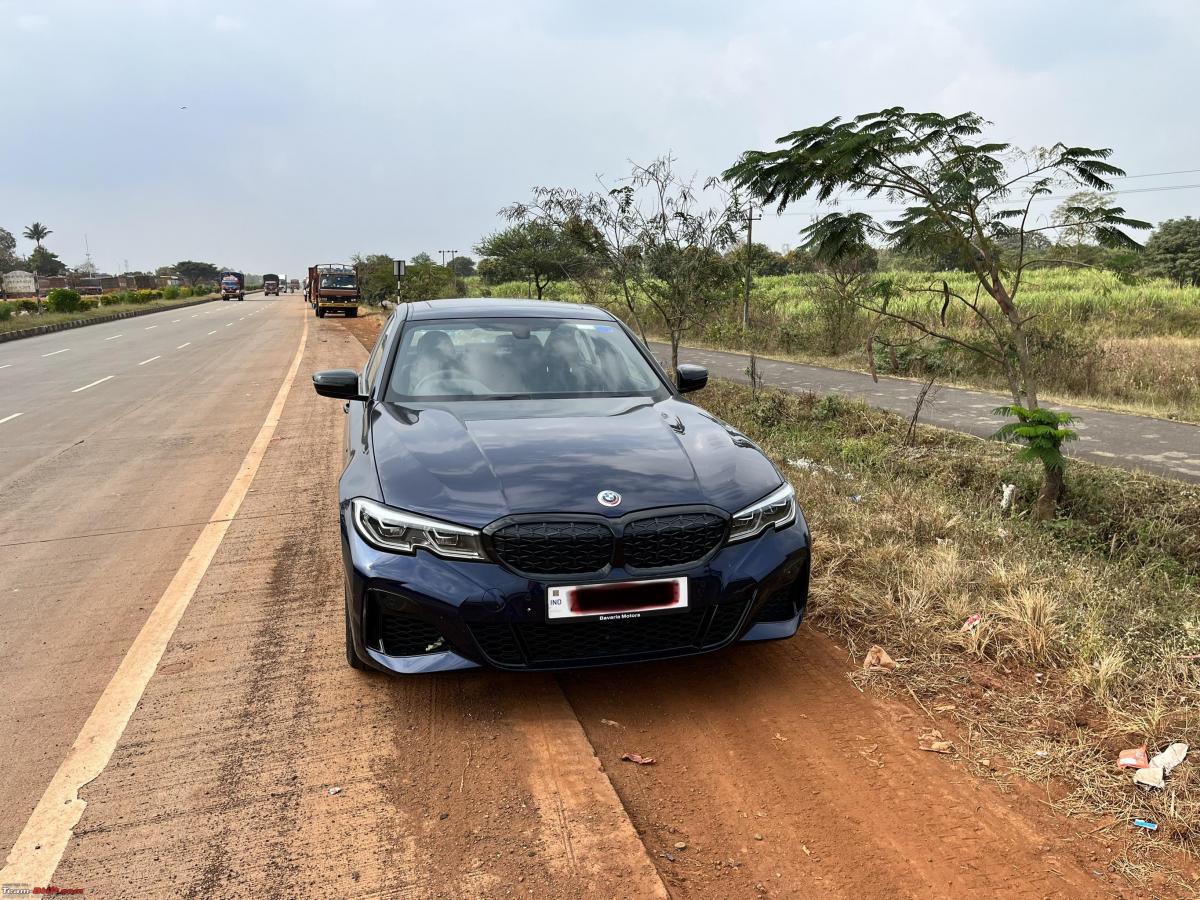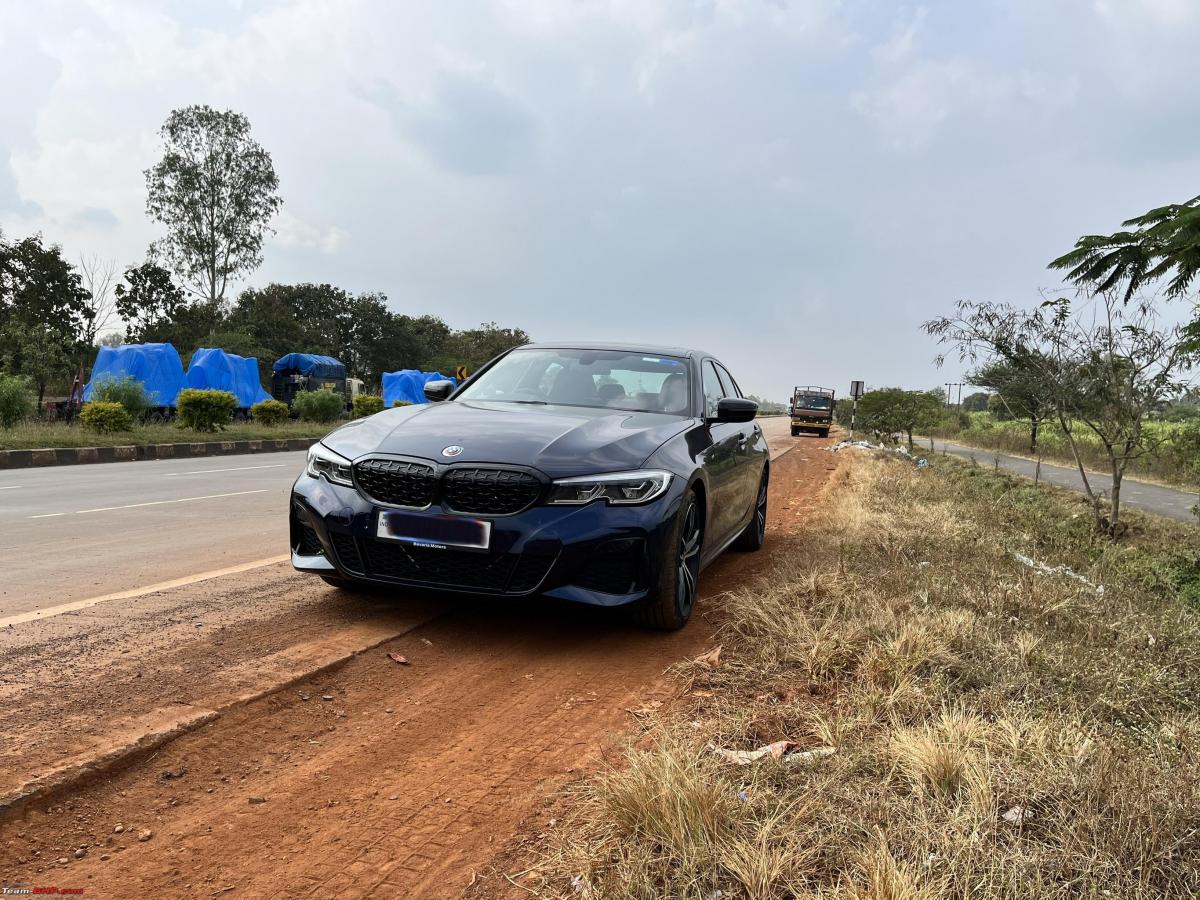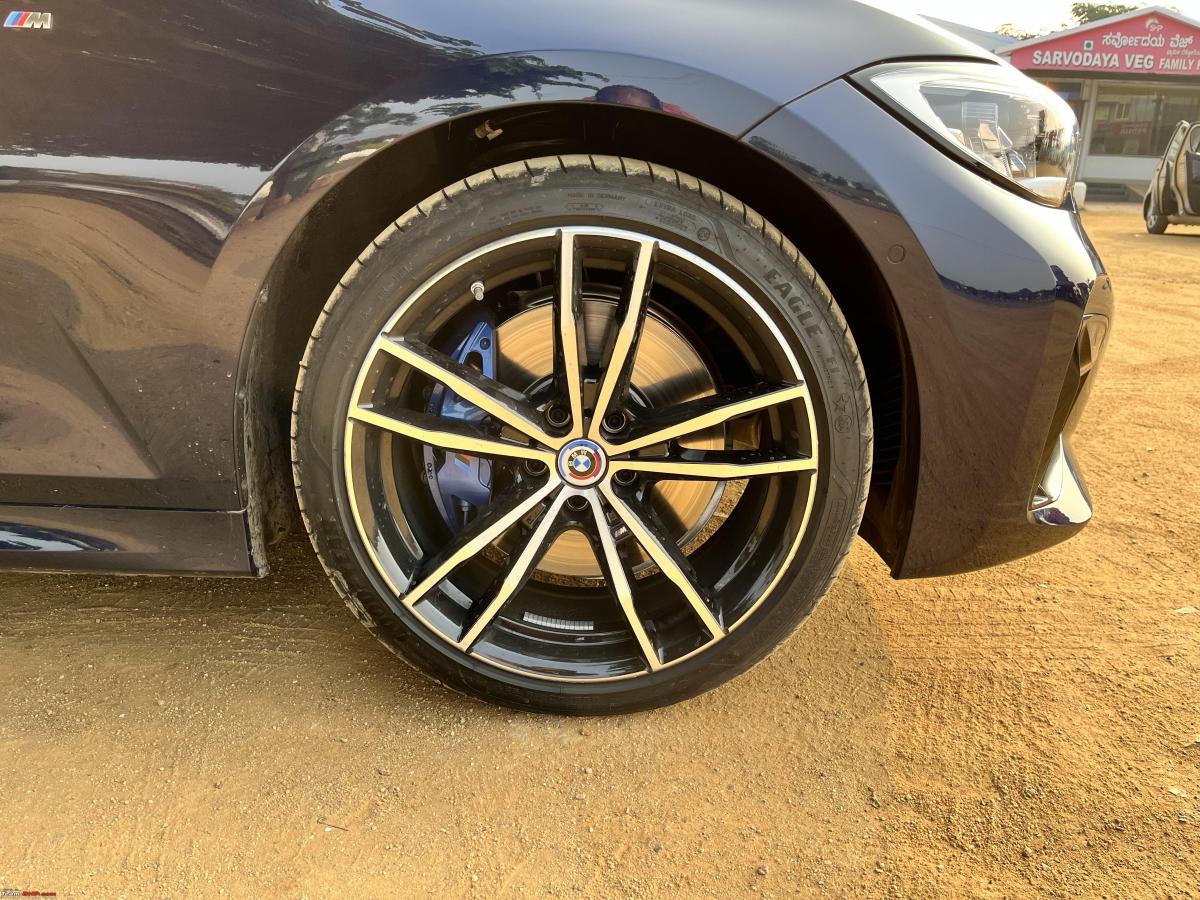 Interior:
The fit and finish of the interior oozes class. Having owned a 330i GT from 2019 and a 2016 X1 before that, I can safely say that this car has more sorted and upscale interiors. While I like the piano black finish, I am not a big fan of it since it is a stain and print magnet! A laundry list of the good and not so good about the interiors is below –
The good:
Fine fit and finish – quality of materials is great all around.
I love the fact that BMW sticks to giving buttons. I am not a fan of all touchscreen controlled interiors.
The chrome for buttons (AC/Windows/light controls) is a nice touch that makes things a little more premium. Reminds me of Mercedes which definitely has more of a modern/swanky interior in my opinion.
Seats – compared to the Dakota Leather seats in the 330i, the mixed Alcantara/Sensatec seats are more comfortable. I found myself sweating a lot less – Alcantara is definitely a better material for your back in my humble opinion. Also the fit is more snug.
Not so good:
Space – Definitely lower in the 340i vs my GT. But again – known and conscious choice. The rear hump though did catch me a little off guard. It is larger than GT and seating 3 in the rear on long drives would be a challenge. Same holds true about boot space as well.
AC/Heat – I think the 330i GT has the better AC. Or maybe it is the all black interior which makes the 340i generally feel more warm.
Piano black finish/all black interior – While it looks good, this is a dust and print magnet. Any little print is easily visible. If you have kids and dogs (I have both!), maintaining the interior is going to be a challenge as against the Cognac interior in the 330i GT.
Equipment:
This car is fairly loaded. BHPian Karan already called out some of the missing equipment which I think is a bummer – keyless entry, ventilated seats, no automatic closing of boot, lack of wireless charging amongst others. That said, these are smaller things and not reason enough for a typical buyer of the car to think any differently about their decision.
Again – will briefly summarize what I loved about this against the older car or competition:
I personally think the audio is a huge upgrade over the stock HiFi system that BMW provides. Can it be better? Yes – its not as good as the Bowers and Wilkins or the Meridien in a Jag. But it is pretty good nonetheless. The HK speakers also have a more premium look over the stock speakers
Auto Hold is a really useful feature that has been added. Blessing in Bangalore traffic!
The iDrive screen is a visible upgrade in terms of both size and resolution. I also liked it better than the one on AMG cars (I test drove a GLA 35).
A big change which is welcome is that the iDrive system in this car gives the entire screen to Apple CarPlay. Previous iDrives would give only about 2/3rd of the horizontal space with the other screen being blank. AMG and Merc also do not give the whole screen. So getting the entire screen for Google Maps was definitely nicer!
The HUD is again a visible upgrade. Also beats HUD on the GLA. It is crisp and works with most sunglasses – I tried 3 different shades and could see information on the HUD which is a big plus. A lot of HUDs are not visible when you are wearing sunglasses, which I would presume is a very common use case for a car driver!
The things I did not like about the whole interior equipment include:
The driver's cockpit/instrument panel is just overloaded with information. You have to go through some configs to turn things off. But the information is overwhelming. I also think including rich images from the audio that is playing is more a distraction.
The 80/120 speed alarms – I got them coded off but boy, are they irritating with BMW!!!
I did not like the drive mode selector. I would rather keep what I had in my 330i GT!
All in all, I don't see a reason to complain though. Pretty happy with overall equipment in the car.
A couple of pictures of the front and rear interior are below: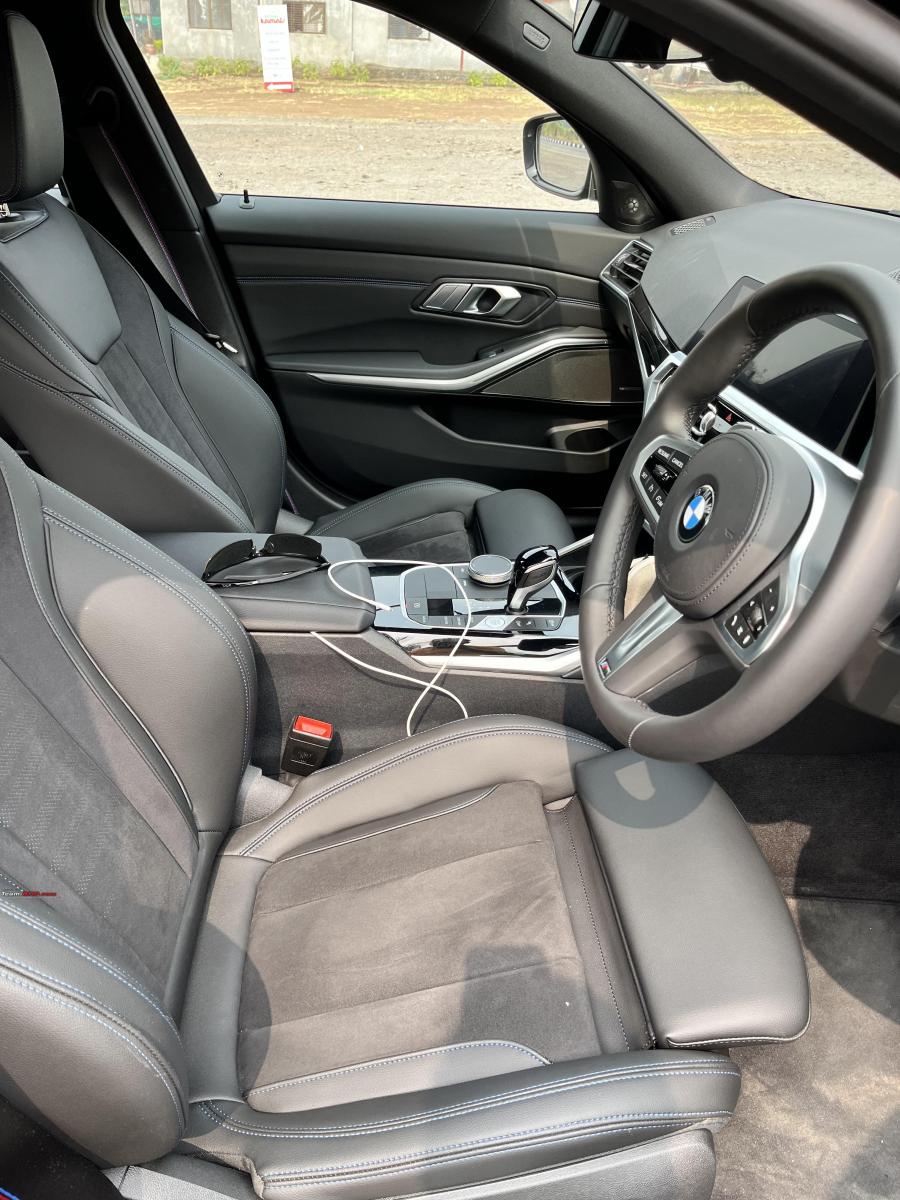 Engine, transmission and driveability:
Disclaimer: I have not pushed the car beyond 5000RPM (okay I know its 4500 ideally while running it in but I would be lying if I said I had enough restraint to never cross 4500!).
I love my cars and am into how they drive since the last 5-7 years. But not as technically aware or geeky as some of the other BHPians. So this will be a more simplified layman review versus a technical review.
In a normal city drive, you will hardly notice a difference between the 3L B58 vs the 2L B48. Especially in Bangalore traffic or Pune traffic, you hardly need to call upon the higher torque or horsepower. As and when you do, what the B48 offers you is more than sufficient I'd say. It still will bring a smile to your face. I would actually argue that the B48 is a better engine than what the GLA 35 offers in terms of feel and responsiveness. But that's a separate debate.
There are however subtle differences which one will notice. First – the pedal is noticeably heavier. The brakes are noticeably more responsive and have more bite, thanks to the MSport brakes in the car. The general "feel" of the pedal in the 340i even in comfort mode matches to the feel you get in sports mode. The obvious question would be that there is no change to the pedal per se when you change drive modes. But its that feel of responsiveness and the heaviness that exists even in a basic everyday mode that I am talking about. Even the steering feels heavier versus the 330i GT. Again – comfort mode steering feels closer to sports mode in the GT. It is definitely not as light as the GT.
Now the fun part.
The M340i is like a horse whose reins are literally in your hands. And its not any horse. It's a thoroughbred. A thoroughbred that is trained immaculately to respond in proportion to the tug on the reins. And it does not make a mistake. Pull the reins hard and it will bolt – like how a racehorse does when the gates open and the gun is fired. Give a gentle tug and it will and show you a little more speed in an instant. I am not kidding – the engine and transmission combo is literally that good and precise! You can go from being a sedate quietly cruising sedan that is running a marathon to a 100m sprint in 10 seconds. All you have to do is floor the throttle or take charge manually. And it is instant. No lag whatsoever.
My long drive from Pune to Bangalore in the car was literally like that. I was cruising at 100/120 ranges enjoying the music. It was a marathon. But when a patch of traffic hit that would hold me up, the 340i would literally be telling me "You know I can do 100m in less than 10 seconds right? And you know I need those 100m sprints in between so that you remember who I am!" Floor the pedal – even in comfort mode with a hint of lag, it will spring out of the blocks with agility. Or better still, shift the gear selector to the left, hit the sports mode button on the panel, get parallel to the irritating truck or the i20 or the Brezza. Wave hi to them, drive alongside for a few seconds, then floor the pedal and lose them on the horizon in your rear view mirror. It really is that simple. And it really is that efficient.
The power delivery is instantaneous and linear – throughout the range. Doesn't matter whether you are going 0 to 100 or you are at 80 and trying to overtake on a single lane highway between Dharwad and Hubli or you are at 120 and trying to accelerate to 150 to experience a nice smooth patch of tarmac. It is all effortless. A growl from the exhaust, a push back into the sports seat and the speedometer starts ticking over faster than you realize. The entire tuning and coordination of engine and transmission is fascinatingly good automobile engineering. The downshifts are quick, precise and there is no lag. The 500nm torque ensures you get enough pull through the range and at pretty much any speed. I have not tried Sports plus yet since I am running in the car so cannot comment on what changes there but in sports mode, this is a beast. A Dr Jekyll that turns into Mr Hyde.
The handling per se is fairly precise. The car is very balanced with no body roll. I did a near 90 degree turn at 60+kmph by literally twisting the steering wheel and throwing the two other occupants violently to the side. But it never felt like I would not be able to do it. Cornering and maneuvering is a delight. Driving on the Katraj ghats or the Khandala ghats on the way was the best part. You actually feel enough g-force to be motion sick as a driver – something that has never happened to me!
There were some concerns about the ground clearance but in 1200 kms of driving, the car has bottomed out exactly twice – one of which was my misjudgment in not seeing a deep pothole. And going slower. The other was on a speed breaker on an under construction patch of road near Satara. In the last one week of city driving on the famously potholed Bangalore roads with their random speed breakers, there have been no issues whatsoever.
The conclusion:
I think this is a great product with masterful automobile engineering from BMW. When you buy this car, you are buying two cars – the first is a very refined and premium regular use car in Eco Pro and Comfort modes. This is the Dr Jekyll version of the car. The second and Mr Hyde version is a sports car that is waiting to bolt and jump out of the blocks. It wants you to step on the throttle and push it.
The only common denominator between the two is the MSport suspension. That does make the ride quality stiffer. But it is very livable in my opinion.
BMW has a clear winner that is in a class of its own. With BH registration, you can get the car at a sub 75L on road price. And that is an incredible value proposition if you truly appreciate and love driving. After two BMWs, the third one I would say is actually and truly "The Ultimate Driving Machine".
Check out BHPian comments for more insights and information
Source: Read Full Article