I feel that this car will make up for the missing features with reliability & an inexpensive ownership experience.
BHPian Shonith recently shared this with other enthusiasts.
Here are my likes and things I wish Maruti would change in the future. This comes after owning the Brezza ZXI+ AT for almost a month with 1700kms of driving.
But before that here are a few pics.
Things that I like
Fuel efficient, with AC in auto, the car is now showing an average of 16.5km/lt in mixed city and highway use. My best ever so far has been 18.57km/ltr over 85kms of driving in 90% highway and remaining in the city with AC on.
LED headlights are much better than what I expected. Illumination is good, you can clearly see what's on the road in front and the spread is also adequate to spot anything coming from the side. Didn't face any visibility issues even in heavy rain. Fog lamps do make a difference in visibility.
Seats are comfy and have adequate space for an average-built person.
360-degree camera makes parking so much easier, now I don't bother looking around. I just rely on the camera and I am able to park with much less effort.
Engine maintains below 2000rpm even at 100kph. So the engine noise is almost muted in comparison to the wind and a bit of road noise.
It's a good-looking car not butchered like some cars in the category that are made to fit the sub 4m bracket.
Suspension set-up is very good very comfy and at the same time body roll is well contained. There are no bumps at 100kph even when encountering surface undulations. Cornering at speed the car never caught me off guard.
Seat belt reminder for the co-passenger is a useful safety feature, now my mom and wife wear seatbelts when seated in the front. I just wish they would have done the same for the rear as well.
Hill hold works well and the car pulls off even from steep inclines without breaking a sweat.
It's a slow car meant for sedate driving. It's much slower than my Dzire which it replaces. But the paddle shifters do make up for it to some extent. In manual mode, the gear shifts are quick. You can hold the revs where you like. Even if you are in manual mode and slow down, the car will auto downshift for you, based on the speed.
Ability to downshift in auto mode using paddle shifter. This is a very useful feature while doing tight overtakes.
Steering feels much lighter than the Dzire's.
Zero issues so far with the car, this is what I expected from Maruti, hope it stays the same for 10+ years we intend to keep the car.
Things I wish Maruti would change
No soft-touch leather on the interior. Steering wheel and the armrest are the only 2 places where you get leather. Maruti should increase the use of soft-touch material at least at this price point.
ZXI+ should be loaded with ventilated seats, UV cut/IR cut glass, TPMS. As I feel these features will become a norm in the future.
Multiple alloy wheel options to choose from, car comes with just 1 type of alloy as standard.
Sometimes there is no real sense of engine braking, this is my first automatic and the lack of sense of engine braking has caught me off guard a few times. The moment you let go of the throttle, suppose the hybrid battery is fully charged, the re-gen braking doesn't kick in and the car just glides like it's on neutral. If not, there is some resistance from the re-gen system. Perhaps it's something I need to get used to and change my driving style.
Engine is tuned for mileage and moderate acceleration upto 100kph. It's not a car you will enjoy driving fast or getting to speed quickly. It's just not meant for that.
There is an uneven gap on the right side brake light. My OCD is tugging me to take a look and make sure it's still there every time I pass the car.
Uneven gap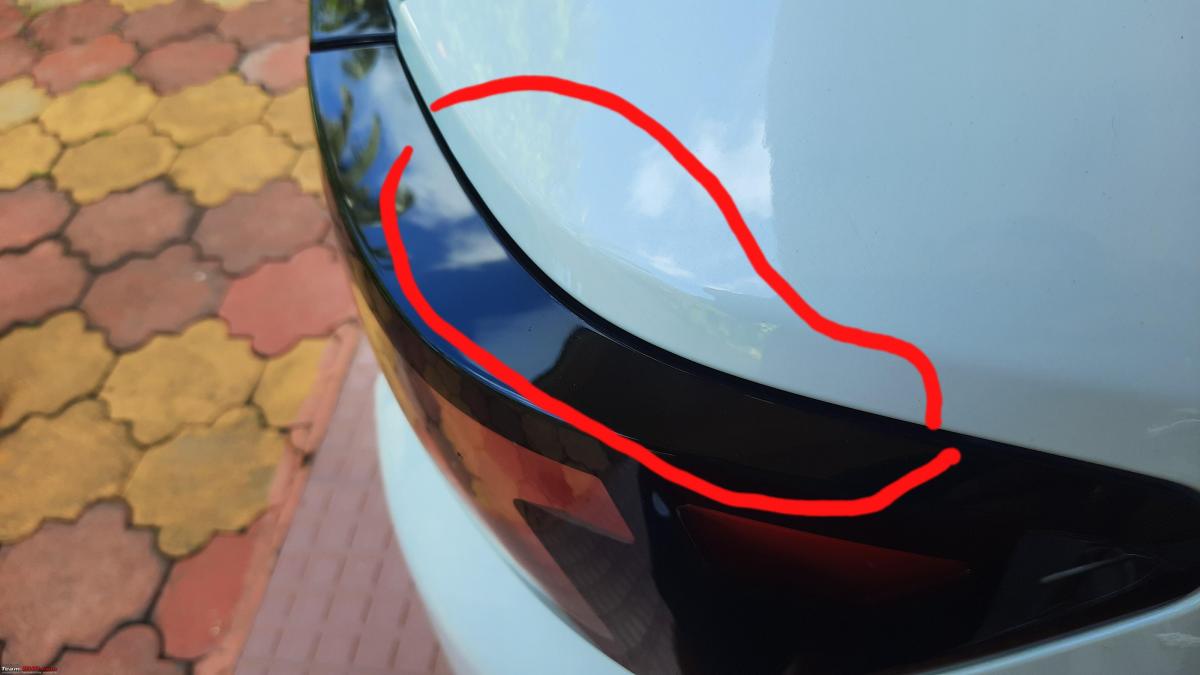 Verdict
Overall it's a good car, with a lot of useful features, some of which I believe will become a norm in the future like the 360-degree camera, and 6 airbags. It's a bit expensive and misses out on certain features and has a less engaging mileage-oriented engine. But I feel this car will make up for it with reliability and an inexpensive ownership experience.
Check out BHPian comments for more insights and information.
Source: Read Full Article